Clark Gable Desert Sunset for the star of the Misfits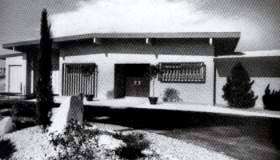 Source: Architectural Digest April 2000 pg 257-259, 364
Text by: Anne Edwards
Photograph by Maynard L. Parker
Interior Design by Harry and Edlene La Chance

When Clark Gable married Kay Williams Spreckels on July 11, 1955, his home for nearly twenty years had been a ranch in California's San Fernando Valley, where he had lived with his late wife, Carole Lombard. But Kay, an elegant blonde with dazzling blue eyes who was divorced from millionaire sugar magnate Adolph Spreckels II, had two small children, and the ranch was not built with children in mind. In addition, the vast property had simply become too great a responsibility. "Something was always breaking down," Kay once recalled. "Clark would grab some tools and fix whatever it was. The place was too big."

They decided to relocate. Gable had recently taken up golf; and so the search was on for a house not far from superior links. The couple chose a new development in the community of Bermuda Dunes, near Palm Springs, which abutted the private one-hundred-and-sixty-acre Bermuda Dunes Golf Club. One of the main attractions of the area was the dry climate. Daily life was leisurely and centered around pools and golf courses. There were several good restaurant, but tents tended to entertain casually in their homes. It was a perfect place for the film to go when they were making a movie, to relax and be "just normal folk." It offered as neighbors some of the Gables' good friends- Holden and his wife, Brenda Marshall; Cary Grants; and Zeppo and Bararx (who would later Frank Sinatra).

Bermuda Dunes was actually closer to Indio than it Palm Springs, but the took advantage of proximity to both cities. Once a small, quiet desert Palm Springs was, by the fifties, a thriving city with several chic hotels and a very smart Saks Fifth Avenue. Gables eventually joined a celebrity bowling team there, and Kay had previously ridden in the parade of the annual Desert Circus, a star-studded affair.

The Gables' new house was fairly modest compared with celebrity homes in Los Angeles. Constructed of white-painted brick and contemporary in style, it occupied a lot just under one acre. But it enjoyed a vista of sand dunes, exotic cactuses and magnificent sunrises and sunsets that they could watch from their patio, which opened onto the pool area where the Gables would soon do much of their entertaining.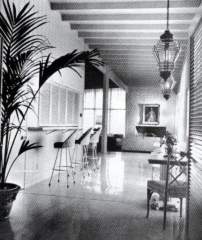 Decorated by Harry and Edlene La Chance, two of the film colony's leading interior designers, the house was awash in desert colors- shades of white, beige and cactus green-accented with deep burnt oranges and sunny yellows. The dining room had a large pedestal table and bamboo chairs; they used a second table in what they called the game area for playing board games on evenings when they were alone. Gable had been willingly and happily domesticated by Kay (whom he affectionately referred to as Kathleen). Her taste was apparent in every room, from the fresh flowers that were always on view to the objects d'art and silver serving pieces (a complete silver tea and coffee service, given to them by Louis B. Mayer as a wedding present, was prominently laid out in the dining room). Also displayed was their growing collection of paintings-including a portrait of Carole Lombard over the fireplace in the living room, which certainly could not have been easy for Kay to abide.

Gable had first met Kay Williams not long after Lombard's death in 1942, when she had just divorced her first husband, Argentine playboy Alzago Unzue, and had come to Hollywood intent on a career in films. They had dated, but at the time neither had been ready to marry again. By the fifties, however, the actor had mellowed.

Gable had lived a hardscrabble life until he found fame in films. He was born in 1901 in the small blue-collar town of Cadiz, Ohio, and his mother had died when he was an infant. Raised by poor relatives, he left high school at age sixteen to work in an Akron tire factory. For the next five years he did whatever he could-laboring in oil fields, driving a truck, selling ties-to keep himself afloat while he pursued his dream of becoming an actor. He hit Hollywood in 1924 and for the next seven years took extra roles and bit parts, first in silents, then in talkies.

His big break came in 1931, when director Robert Z. Leonard cast him as Greta Garbo's leading man in Susan Lenox (Her Fall and Rise). In all, he appeared in twelve films that year, with Hollywood's most sought-after female stars-Garbo, Crawford, Harlow, Shearer and Stanwyck. Gable was now a top star; his roles as a tough guy with high-voltage sex appeal and a weakness for beautiful, unattainable women earned him an immense following, both male and female.

In 1934, the seventh year of the Academy Awards, he was voted Best Actor for his role as a cheery reporter in the romantic comedy It Happened One Night, in which he traded sharp-wilted lines with runaway heiress Claudette Colbert. In the next four years he won acclaim and fans with his performances in Mutiny on the Bounty (1935), which garnered him an Academy Award nomination; San Francisco (1936); Saratoga (1937); and 1938's Test Pilot and Too Hot to Handle. Then came Gone With the Wind (1939).

"If it hadn't been for that damn picture," Gable was fond of saying, "nobody would want me anymore. In fact, they wouldn't even remember who I was!"
In 1954 Gone With the Wind was rereleased, and Gable once again topped the lists as the most popular actor. Four years later he stepped onstage as a presenter at the Academy Awards ceremony, appearing on television for the first time, and was given a standing ovation. Nearly twenty years after the release of his most famous film, he remained the embodiment of Rhett Butler.
The Gables had just settled in their remodeled house when Gable was signed-for $750,000 and 10 percent of the gross, the highest-paid performance to that date-to star opposite Marilyn Monroe in Arthur Miller's The Misfits. In view of her history of lateness and histrionics, his contract also guaranteed him $48,000 a week for overtime. He would be playing Gay Langland, an aging but still virile cowboy in a contemporary western.

Before Gable was signed, Monroe, who was then married to Miller, had not wanted to do the film, which was to be shot in black and white and would require difficult location work. But Gable had been an idol of hers since childhood. "My mother gave me a picture of him when I was a kid," she once said, "and told me he was my father." She had believed this fiction for a long time, and she was terrified at the thought of working with him.

Production, originally slated to begin in Nevada in the spring of 1960, was late in starting due to Monroe's emotional instability. A merciless summer sun turned Reno into an oven when Gable and Kay arrived for the start of filming on July 18, just after their fifth anniversary.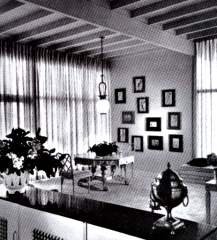 Monroe, accompanied by an entourage of thirteen, showed up two hours late to work the first day that she and Gable were to do a scene together. 'When she stepped before the camera, she took violently ill and had to repair to her trailer dressing room. 'When she finally returned to the set, she apologized to him and said, "Please don't hate me for being so late. I've loved you all my life." Gable took her aside. "Look, honey, you are worth the wait," he assured her.

Kay had just learned that at the age of forty-two she was pregnant. The Gables were both delighted but decided she should return home to be under the surveillance of her doctor and to oversee the construction of a nursery.

Outdoor scenes on The Misfits were shot extremely early in the morning. Even so, the heat rose to 115 degrees, and Gable wore heavy western garb. He had lost thirty-five pounds before starting the film, and although he had suffered some minor heart problems the previous year, he considered himself to be in excellent condition. Despite there being an expert stuntman and a double on hand, he insisted on doing most of the stunts himself; which included wrestling a wild stallion and becoming ensnarled in a lariat and dragged face-down for several feet. He came out bruised but pleased that he still could do "a man's job."

Monroe's insecurities and erratic behavior caused frequent delays. Gable remained polite and kind to her, but he no longer had much patience. He was anxious to finish shooting to get back to Bermuda Dunes, Kay and their life together.

In early November, shortly after the completion of photography on the film, he suffered a severe heart attack and was rushed to a hospital. Kay was five months pregnant. She remained with him, taking a room close by. The doctors told her that if he could pull through the next ten days he would make it. On the evening of the tenth day, he appeared to be much improved. Kay was exhausted from her vigil, and Gable insisted she go to her room early and get some sleep, which she did. She was awakened by a doctor several hours later and informed that her husband had quietly passed away. It was November 16,1960. Clark Gable was fifty-nine years old and had completed his sixty-seventh starring role in films. On March 20, 1961, John Clark Gable, the son his father had always wanted, was born.

Once, when asked if he would ever consider retiring, Clark Gable told his pal Robert Taylor that "one more role was like taking that last drink-it always leads to another." He also hoped that somewhere, in some writer's mind, was a character he would one day play that would make people forget he was ever Rhett Butler.