'The King': He Was Leery of Playing Rhett Butler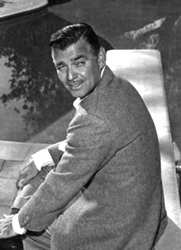 Source: Newsweek 12/24/1956 pg 70

Clark Cable, whom Hollywood has been calling "The King" for many years, has always found the extravagance- of the nickname a little embarrassing. But there is nobody else around who rates it more than he does. To female film fans all over the world, he become the symbol of muscular masculine attractiveness back in the early '30s, and he has stayed around the top of the popularity polls ever since. A star since "A Free Soul," which appeared in 1931, he won his royal title in a national poll of 400 newspapers back in 1937, conducted by Ed Sullivan, the Broadway Columnist.

Gable was born a workman's son in Cadiz, Ohio. With a considerable-assist from the first pf his five wives, Josephine Dillon, a professional dramatic coach fifteen years older than Cable, he reached the movies by way of theatrical stock companies and road shows. Hollywood spotted him as a real possibility when a road-show version of the Broadway hit, "The Last Mile," brought him to Los Angeles; they made him a movie star within a year. Most of the movies he has made since then-things like "Dance, Fools, Dance," "After Office Hours," and "Hold Your Man"-have been forgotten by the world at large, but an impressive number of them are enshrined in the Hollywood history books-film classics like "Hell Divers," "Mutiny on the Bounty," "Saratoga," "It Happened One Night," and "Gone With the Wind," the most profitable movie of all time.

From 1930 to 1954 Gable worked for the same studio, Metro-Goldwyn-Mayer. Now, like a number of other stars, he owns his own-Gabco-whose first picture (made jointly with Russ-Field, a company owned by actress Jane Russell and husband Bob Waterfield) is the current "The King and Four Queens.

Tired of Jumping: Gable, who has described himself as "fundamentally, a man who does not want to work," finds keen enjoyment at 55 in. being his own boss. "For 24 years I had to answer the call of the studio," he pointed out last week. "When they cracked the whip I jumped. When you've been jumping for 24 years you get a little tired of it." Like most actors, of course, he must act, no matter how well off he is (he says modestly he is in pretty good shape"). He has, accordingly, no thought of retirement. "I enjoy acting," he says. "I enjoy it more today than I ever did before, because of the freedom I have now."

As his own boss he is in complete charge from the start. "First I find a story," he says. "If I don't find one, I play golf." Next he looks for the right director. Then he helps pick a cast. After that, things are up to the director ("I put it in his lap").

How successful his judgment as a producer will be remains to be seen. In the past he has bet right some-times, and occasionally quite -wrong. He .was dubious about the advisability of playing Rhett Butler in "Gone With the Wind," very skeptical about "It Happened One Night," and quite reluctant to do "Mutiny on the. Bounty." In each case he thought he was being miscast.

Gable has no illusions about the durability of his old performances as either art or 'entertainment. "Times are changing," he observes. "'I can't do the things I did twenty years ago on the screen. They would bore a 15-year-old child today."

Now he lives with his blond fifth wife, former model Kay Williams Spreckels, 38, and her two small children, on the San Fernando Valley ranch that has been his home for the last fourteen years. He spends a good deal of his time playing golf, and also enjoys fishing and hunting. People who like their movie stars to live and talk like-movie stars will be pleased, to know that Gable has three cars in his garage-a white Cadillac, a white Thunderbird, and a white station wagon. "It's pretty monotonous," he explains as best he can, "but they don't show the dirt."