Memories of Hollywood King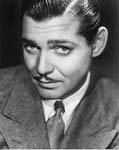 by Mervyn LeRoy
He was called "The King" and he was a king. He was probably the greatest star ever.
When I was set to direct Little Caesar for Warner Brother, I was searching for just the right actor to play a supporting character named Joe Massara. One evening in Los Angeles I went to the theater to see a prison drama called The Last Mile. One actor caught my eye. he was very handsome, and all man -- the type who never went unnoticed. He also had a certain magnetism -- a quality that I never would be able to comprehend completely.
After the last curtain call, I went backstage, and asked about the actor who played Killer Mears. They told me his name was Clark Gable. When he walked through the stage door, I asked Clark if I could talk to him. He was very cordial and polite, and listened patiently. I asked him if he was interested in going into motion pictures. "I certainly am," he answered quickly. I knew I had found the one to play Joe Massara, but I told him I would have to make a screen test to show to Jack Warner and Darryl Zanuck, and we arranged a date.
I directed the test, and when I ran it for myself I was very impressed. I immediately called Warner and Zanuck and said I had a surprise for them. They came to the projection room, and I ran the twenty-minute film. When the lights came on, I cheerfully asked the two man what they thought of my new discovery. They both said, "His ears are too big." And --do you believe it -- they turned him down! Of course, Gable went on to be the biggest star in the world while under contract to MGM, and remained "The King" of the motion pictures for more than thirty years. Many times I would pester Jack Warner with the question:" How would you like to have him now, or just his ears?"
Eventually, Clark and I managed to make two pictures together: Homecoming and Any Number Can Play. He was extremely easy to work with and to direct, which is not always true of great stars. He was a pro who was serious about acting and thought a great deal about how good he could make a part. And he was a fine actor -- one who had his own style. He was proud of his ability, and it disappointed him when he thought he hadn't done his best.
Over the years, Clark and I became very close friends, and he would come to my home many times. I often showed movies; afterward we would sit and talk. He had a good sense of humor and often told jokes, but mostly he took life and his craft seriously. In all of the time we spent together, I never heard him say a mean thing about anyone.
I never knew anyone who didn't like Clark Gable. he was a great individual, a great citizen, and was admired by all who knew him. He will be remembered when most other stars are "gone with the wind."