Clark Gable- A trivia quiz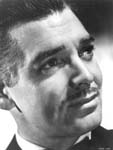 Clark Gable was born in Cadiz, Ohio, on February 1, 1901. The city still holds film festivals in his honor.
After doing extra work in such films as The Merry Widow (1925), Gable moved to New York where he became friends with Lionel Barrymore. Years later, Barrymore arranged for Gable to test at MGM, but it was a disaster. Gable also tested at Warner Bros. to play Edward G. Robinson's best friend in Little Caesar, but production chief Darryl F. Zanuck turned him down, saying "His ears are too big. He looks like an ape."
Gable finally landed a film role as a villain in The Painted Desert , a 1931 western starring William Boyd, who would later rise to stardom as "Hopalong" Cassidy.
After a second screen test at MGM (again arranged by Barrymore), Gable won a contract, making his debut in a small role as Constance Bennett's brother-in-law in The Easiest Way. When he rose to stardom within a year, MGM re-issued the film with Gable listed as its star.
Treating Norma Shearer roughly in A Free Soul was Gable's ticket to stardom in 1931. Female fans fell for a new type of hero, as likely to slug them as to kiss them.
When Gable and Jean Harlow shared some steamy love scenes in 1932's Red Dust, fan response made him MGM's top male star. They would re-team in four more films, including the modern day pirate adventure China Seas (1935).
As Gable's star rose, he started to refuse run-of-the-mill roles. When he turned down a Joan Crawford soap opera, studio head Louis B. Mayer punished him by loaning him to the less prestigious Columbia Pictures. The film he made there was It Happened One Night , which brought Gable an Oscar for Best Actor.
Despite his he-man image on-screen, Gable off-screen seemed to be in search of someone to mother him. His first wife, drama coach Josephine Dillon, was 17 years his senior; his second, socialite Rhea Davis, was also considerably older.
Gable indulged in three famous romances with leading ladies in the 1930s. His fling with Joan Crawford ended when Mayer threatened to destroy their careers. While making Call of the Wild with Loretta Young, they fell in love. Years later, Young's adopted daughter, Judy, would claim that she was their love child. When Gable started dating Carole Lombard, he knew he'd found the real thing.
Initially, Gable refused the role of Blackie Norton in San Francisco (1936) because he didn't want to stand around while co-star Jeanette MacDonald sang to him. "It's one thing if you have a voice and can sing back and defend yourself," he explained to MGM production chief Irving G. Thalberg. "It's another if you don't, and I don't." He changed his mind when he learned that MacDonald had taken herself off salary while waiting for him to accept the role. Thinking he was over the hill, MGM executives refused to renew Gable's contract in 1954. To their embarrassment, Mogambo, one of his last pictures there, was a major hit that made it possible for Gable to command top dollar as a free agent in Hollywood.
While filming San Francisco , Gable forged a close friendship with co-star Spencer Tracy. Gable admired Tracy's dramatic versatility, while Tracy envied Gable's romantic allure. The friends would re-team for two more films, Test Pilot (1938) and Boom Town (1940), with Gable taking top billing both times. The situation was so rough on Tracy's ego that the two never worked together again.
Gable hated period pictures, convinced he only looked good in modern roles. He tried to turn down Mutiny on the Bounty (1935), another of his biggest hits. After the failure of Parnell , in which he played a crusading Irish politician, he swore he'd stick to contemporary stories. As a result, he fought to get out of his most famous role, Rhett Butler in Gone With The Wind .
Gable finally agreed to play Rhett Butler on one condition. He forced MGM to pay off his second wife, Rhea Davis, so she would divorce him, thus leaving him free to marry Lombard.
Gable's reputation for romancing his leading ladies was so notorious that when he was cast opposite Lana Turner for the first time (in Honky Tonk ), Lombard personally warned Mayer that if she caught the two together she'd make sure Gable could not show up for work.
After Gable's romance with Joan Crawford, the two remained friends for years, appearing together in eight films, most of them with steamy love scenes. It wasn't until they made Strange Cargo (1940), however, that they ran afoul of the censors, and then it wasn't over their love scenes. The story of convicts escaping from Devil's Island included a character played by Ian Hunter who thought he was Jesus. The Catholic Church's Legion of Decency threatened the film with a condemned rating if his scenes were not toned down.
After Lombard died in a plane crash on her way back from a personal appearance tour to sell war bonds, Gable enlisted in the Army Air Corps even though he was too old for the draft. After the war he married twice. Each woman bore a strong resemblance to Lombard.
Contrary to rumor, Gable's death from a heart attack was not caused by strenuous work on his final film, The Misfits (1962), which co-starred Marilyn Monroe. At the time, gossip-mongers claimed that Monroe's erratic behavior led to exhausting re-takes of scenes in which he had to rope and tie down wild horses in the Nevada desert. A close examination of the film reveals that Gable didn't have to perform any strenuous shots. Footage of him handling the rope was simply intercut with location footage of the horses.
Gable's only legitimate child, John Clark Gable, was born posthumously. As an adult, he worked as a race car driver and refused offers to go into the movies until 1990 when he agreed to play an outlaw in the western Bad Jim. The film's star, James Brolin, had played Gable in the disastrous 1976 biography Gable and Lombard.