Welcome!
This is the place for Zee Toys collectors to share information. Keep 'em rollin'!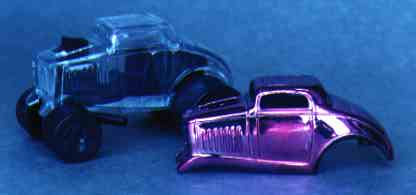 Not quite ready for prime time: These all-plastic 3" cars were to have clear/tinted and/or plated bodies. The chassis were to have been chrome plated and wheels foil-stamped. None were manufactured.

Questions and comments
See what readers like you (well, maybe not exactly like you) have to say.
Send your questions and comments to Zed. By sending a message, you give the ZTCC permission to post it on the site. However, if you don't want it posted, just say so. Unless you request, we won't post your e-mail address.
Brand names
Zee Toys is a trademark of Zyll Enterprise Ltd. of Hong Kong. Some of the other brand names their products have been sold under include Z-Wheels, Zylmex, Intex (not all Intex toys were made by Zyll) and private labels such as some "Fast Lane" vehicles sold by Toys R Us and some "Great Gifts" vehicles sold by Target. In the '70s, some Sears "Road Mates" cars were made by Zyll.
---
Descriptions listed here may or may not be the same as the wording, if any, engraved on the toys.
All trademarks and designs are the property of their owners and are only shown here for identification purposes.

Last updated on March 30, 2009.

Copyright 1998-2009 Zee Toys Collectors Club
The Zee Toys Collectors Club is not affiliated in any way with Zee Toys or Zyll Enterprise Ltd.

<!******Begin Die-cast Collectibles ring code******>

<!**********End Die-cast Collectibles ring code*************> This page hosted by
Get your own Free Home Page