Main Page || Celtic Lore || About Me || Lukewarm Links || The Feedback Loop || Sign Guestbook || View Guestbook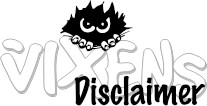 Do not attempt to operate without first reading manufacturers instructions; if rash or irritation occurs, discontinue use; not tested on animals; keep out of reach of children; intentional misuse by deliberately concentrating and inhaling contents can be harmful or fatal; if swallowed seek medical advice; open other end; highly flammable; anything you say can and will be used against you in a court of law; batteries not included; in case of emergency push out rear window; external use only; children under the age of 14 must be accompanied by an adult; crowd surfing and stage diving is prohibited; one way - go back; induce vomiting if poisoning occurs; emergency phone 200 metres; trespassers will be prosecuted; do not play metal tray in microwave; may cause drowsiness; children crossing; the management reserves the right to refuse entry; this way up; loading zone 2-4pm; in an emergency gasmasks will fall from the ceiling; handwash separately; insert tab A into tab B for your really scary gorilla mask; noxious fumes may cause nausea and vomiting; overnight hire only; latecomers will not be admitted; not to be used internally; just like a chocolate milkshake only crunchy; maximum headroom 7.5 metres; not for resale; shake well; if not fully satisfied return product for a full refund; CFC free; use in a well ventilated area; smoking when pregnant will harm your baby; bright flashing lights may cause epilepsy in some users; no running on wet areas; renting this product deprives the artist of income; crocodile infested waters; this is not a toy; plastic bag may cause suffocation; this medication should be taken orally; please dispose of rubbish thoughtfully; please retain for statement verification; no returns or exchanges without receipt; medium level violence; prolonged use may be harmful; unmarked police cars patrol this area; koalas crossing next 2 kms; swimming prohibited; thermal underwear should be worn at all times; this is a test; be sure batteries are inserted correctly; supply of alcohol to minors is an offence; mobile phones should be turned off during the movie; no thongs; please rewind tape before returning; contains no MSG; consult your doctor if pain persists; do not use batteries other than the type specified; if its not there in 30 minutes - its free!; Restricted to Adults 18 years and over; hygienically sealed for your protection; drink driving is a crime; prolonged exposure to the sun may cause discolouration; the managements decision is final and no correspondance will be entered into; all names have been changed to protect the innocent; contains explicit language; do not use hairdryer in the bathtub; do not fire directly in face; sweet taste some monsterism; abort, retry, fail?; avoid contact with the eyes; taking more than one tablet per day may cause birth defects; no artifical colourings or flavourings; do not use new batteries with old ones; vitamins may only be of assistance if dietary intake is inadequate; contains approx 17 standard drinks; do not use if seal is broken; thermonuclear protection; do not use on children under 2; this is not a safety device; do not insert foreign objects; exact change only; hard hat area; pull to inflate; objects in mirror are closer than they appear; more news at 6; danger - explosives; do not look directly at the sun; this is not a flotation device; break glass in case of emergency; removal of this sticker may void warranty; all names and events are fictious and any relating to real people and incidents are purely coincidental; caution - hot; should be used under the correct adult supervision; please note there are four exits, one at the rear of the plane, one where you entered and two over each wing; passengers are reminded for their own convenience and safety to please remain behind the yellow line; beware of dog; SPF 30+; open other end; stand clear doors are closing.
---
"The only difference between me and a madman is that I am not mad"
Salvadore Dali
Main Page || Celtic Lore || About Me || Lukewarm Links || The Feedback Loop || Sign Guestbook || View Guestbook


Created by Vixen
Please read the Disclaimer.