Family History
This is the Story of 2 Convicts in our Family

The Geary Name is from the Sligo Area which is in Ireland
Thomas Geary
Thomas Geary was born 29 Jul 1774 in Radbourne, Derbyshire
Married
Elizabeth Haslem born Hucknall Torkard 1st July 1775
on 20 July 1800 in Greasley Nottinghamshire

Together Thomas and Elizabeth had 5 children:
Margaret Geary, born 02 Oct 1803
William Geary, born 28 Dec 1800
Edward Geary, born 04 Jul 1802 (died as an infant)
Thomas Geary, born 04 Jul 1802 (died as an infant)
Martha Geary, born in about 1804.
All the children were born in Hucknell Torkard, Nottinghamshire.
(Special Thanks to John Patten desendant of Thomas Geary for the information he gave)


William Geary
Born 1800 in Hucknell Torkard, Nottinghamshire.
Married to Charlotte Davey @ Annesley Nottingham 5th Jan 1824
They had 5 Children Sarah(1820) Thomas(1822) John(1824) William(1825) Elizabeth(1826)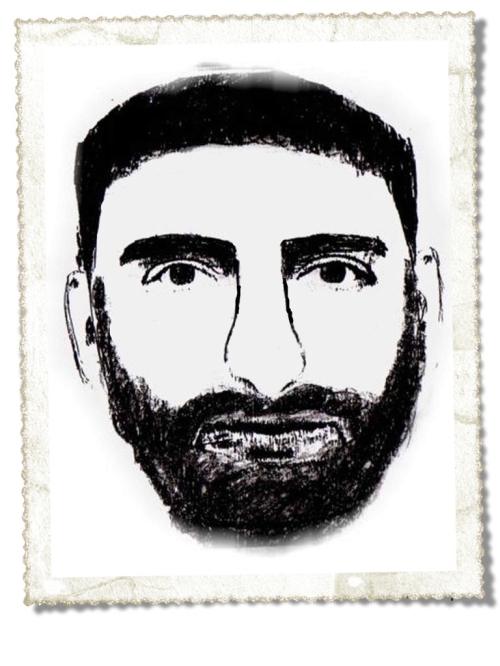 On the 28th June 1831 Thomas and William were convicted of Stealing 2 Bushells of Wheat worth 16 shillings & sentenced to 7yrs to be transported as soon as possible. William was a Labourer and Stockeeper.We looked into why they would have been stealing and discovered that at this time in England there were many people that were very very poor.The government would sent people to jail for over 100 different reasons like stealing of goods worth over 5 shillings, the cutting down of a tree, stealing an animal or stealing from a rabbit warren.
It is said on the police report for William Senior that his hair is Brown his eyes Green he is 5ft 6in and can have a violent disposition.
We wondered what it was like for a child through out this time and we searched the Internet and found this site Children were sent to workhouses sometimes because there parents could not afford to keep them. We tried to think what that must have been like for them, But it was hard for us because we have so much in our times.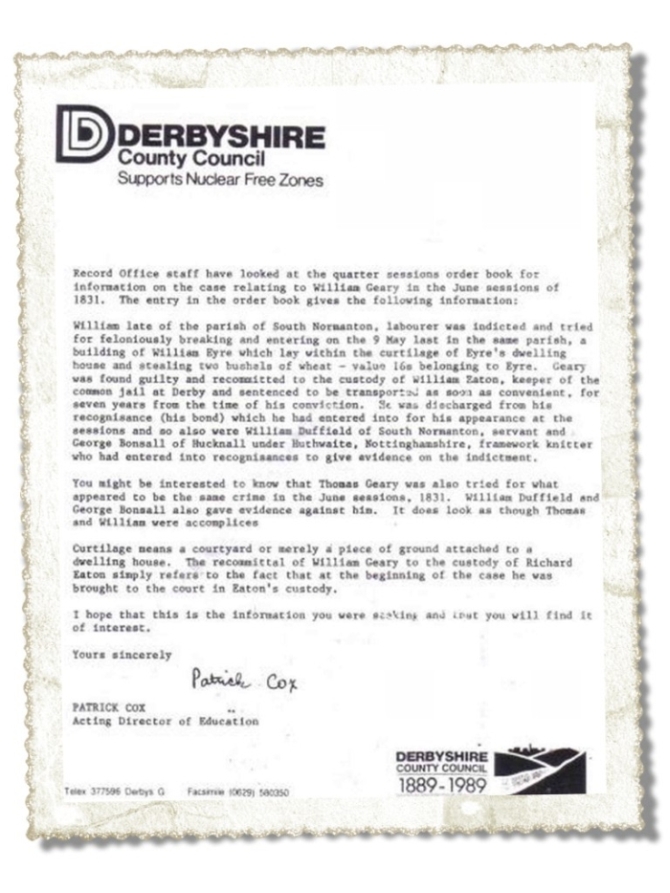 We searched more and found that Both Thomas & William were sent to a convict ship called the Justitia Hulk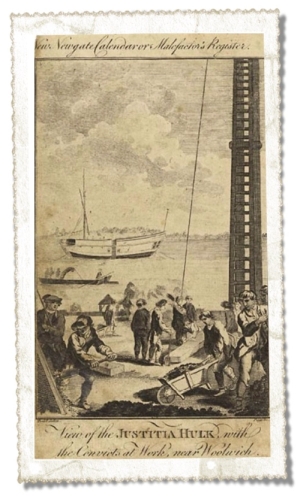 we looked into what a Hulk is...here is what we found
A hulk is a ship that is afloat, but incapable of going to sea. Although sometimes used to describe a ship that has been launched but not completed, it most often refers to an old ship that has had its rigging and/or internal equipment removed, retaining only its flotational qualities.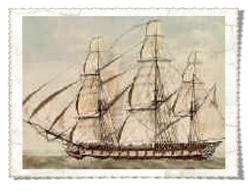 We discovered that often in the 1800's These Hulks where used as Prisons known as Prison Hulks
Conditions on Board
Convicts were housed below decks on the prison deck and often further confined behind bars. In many cases they were restrained in chains and were only allowed on deck for fresh air and exercise. Conditions were cramped and they slept on hammocks.
Although the convicts of the first fleet arrived in relatively good condition, the same cannot be said for those that followed during the rest of the century. Cruel masters, harsh discipline and scurvy, dysentery and typhoid resulted in a huge loss of life.
We read the story of a convict child Bill Crockers Convict Journal
A detailed historical journal chronicling a young convict's fantastic journey to Australia.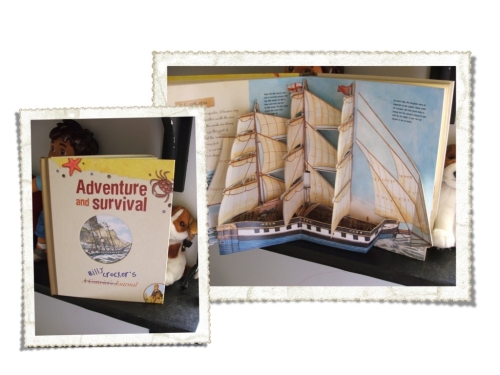 Billy Crocker was 13 years old when he was transported from England to Australia for stealing a shirt. This fictitious journal is an account of his convict journey. Share with him the harsh and unforgiving conditions onboard the William Metcalfe as he travels across the world. Find out about the rigours of life in the penal settlement at Port Arthur where he makes friends and follow Billy's gradual progression from convict to free man who settles down in Tasmania with his wife and children. This absorbing story about a piece of Australian history, largely untold for many years, is brought to life for the contemporary reader with fascinating facts and accurate detail. Beautifully illustrated, this book also features many interactive flaps and pop-ups.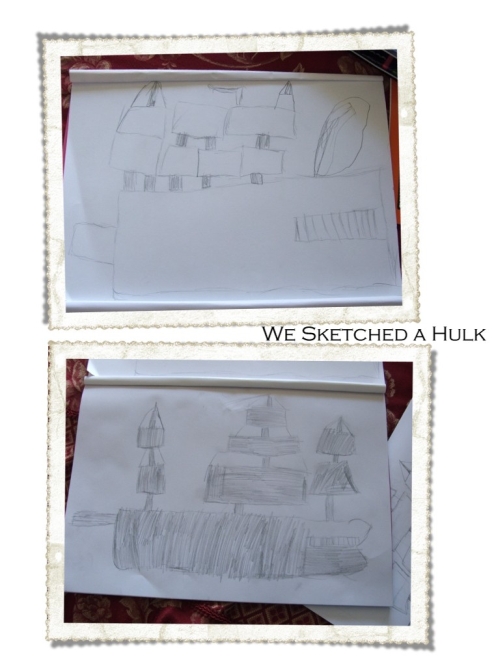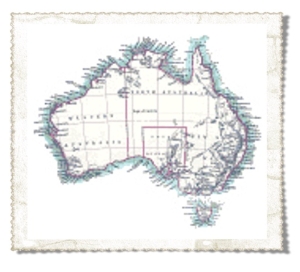 Thomas never made it off the Justitia he died 26th March 1833 at age 58. William was transferred to the Gannyede on the 6th dec 1831 then on the 7th Jan 1833 he was put onto the Jupiter(2) and transported to Van Diemans Land(now Known as Tasmania,Australia)
It appears William got a Ticket of Leave( which means he worked well ,did as he was told ) and was released early .He then got work in a bushwacker Gang in Australia for a short time to earn money then he Caught a whaling ship belonging to the Weller Brothers and became one of the First Settlers/Pioneers to the Portobello Otago Peninsula area in New Zealand he arrived in 1836 according to his documents..
After he was settled William sent for his wife Charlotte and the children ,the ship they where booked on went down and none survived , William believed they were all dead but Charlotte was sick and the family did not board, but William was not to find this out for some years. He took a Maori woman named Etahi Taitapu Poripoki (her white name was Elizabeth) to be his common law wife around 1846 they went on to have 5 children ,3 sons which they named after Williams White sons(that he thought died) Thomas(1848),John (1850)& William(1853)( known as BlackBilly) (we come thru this line of William Jnr)and 2 daughters that died. He purchased farm land (around 300 acres) at Hoopers Inlet He was a Farmer and Butcher and The last ever Creamery in Portobello was owned by the Geary Family.There is a even a Street named after the Geary Family in Portobello.There is a book written by Hardwicke Knight called" Otago Pensinula a local history" which the Geary family are mentioned and Photographed many times( and we own on of the 200 copies published).
Later when Williams Sons in England found there father they came and lived with him they were grown men.
The Geary Family was Some of the First Settlers/Pioneers to the Otago Pensinula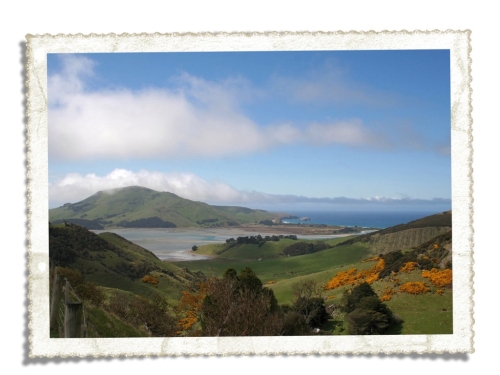 A Picture looking over Hoopers Inlet from the Geary Farm Lands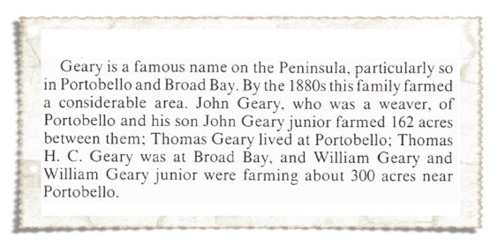 William GearySnr drowned in a boat accident off Pullings Point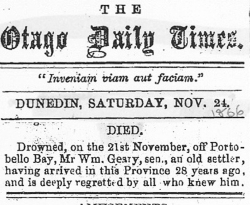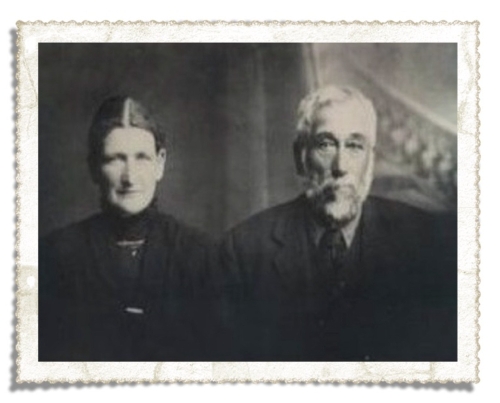 This is William Geary Junior (Black Billy)with his Wife MaryAnne who was married in June 1886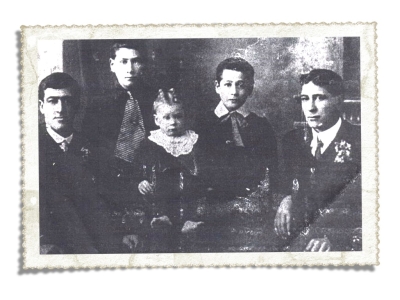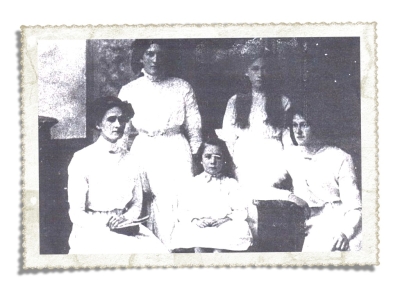 Below are the 10 children the had together
Back Left-William George, Back Right-David Earnest

Front Left-John- Front Middle-Baby Stanley Fraier ,Front Right-James Henry

Back Left-*Annie Emily,Back Right-Jessie Repecca

Front Left-Mary Ethel(dolly),Front Middle-Vera,Front Right-May Levina
William was married to a Mary Cowan on the 10th March 1872 she passed away on 21st Dec 1884 she is buried here in the Portobello Cemetry William had this Headstone erected in her memory,William was later buried here with her and Williams daughter(to Maryanne) Annie Emily Leary (nee Geary)( my Great Grandmother) is also buried here with them.
*Annie Emily is our great great grandmother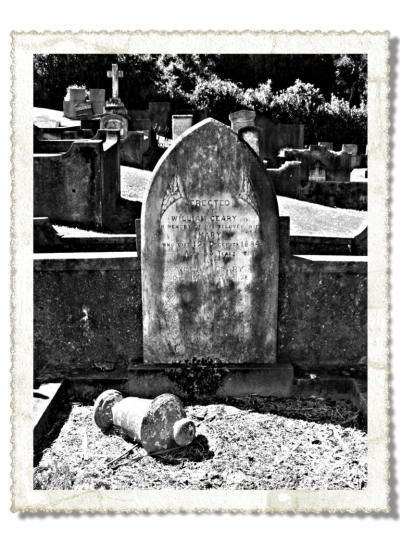 You can go via map to all the places mentioned on this webpage by clicking onto the names of each place.
Please DoNOT copy anything from these pages