The Wrestling Fun Cinema
< She says "Click me for more"

These are films I have enjoyed: some you can buy over the net, others you will have to watch for on television or ask for in the newsgroups. They are listed as follows Title, type, rating, comments

Further details and reviews of films whose title is underlined (linked) can be obtained by clicking on them. There is also an opportunity to purchase.
here I will put a more general film that may appeal to some of you, usually with a link to its CD music as well.
Films specifically about female and mixed combat and wrestling
Unfortunately the next three films are not available from Amazon.com on video. Maybe if enough people email them and ask, they will consider stocking them. However they have been on television from time to time, so many people will have them. Enjoy the animated gifs, anyway!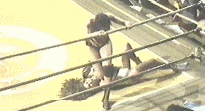 All the Marbles ,cd,2 The classic female wrestling drama. Ron Farrar says that the girls were dancers and each fight carefully staged, but why worry. Also he said that the "rocking horse" hold is hardly a standard wrestling hold, although it looks great fun. This film is also known as "California Dolls"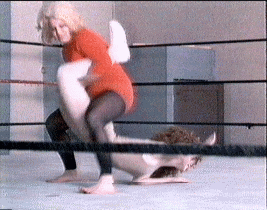 Below the Belt ,cd,2 A sort of country and western road movie about female wrestlers. The bit near the begining is quite interesting where the heroine who gets the wrestling bug gets the brush off from her boyfriend when she tries to get him to wrestle.

There are also interesting character sketches of the girls in the wrestling troupe. I am sure that ASFW people would love to make a home for some of them, if they were real people not characters in a film. But this film was probably based on research done amongst real people ...
Trafford Tanzi, c,2 A weird stage show in which life is seen as a series of wrestling moves between the female main character and others. There is also a film version.
Black Belt Angels
In this action-packed m/f martial arts movie, Tae Kwon Do master Matt Robins and his teenage daughters fight to keep their martial arts school open.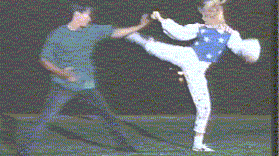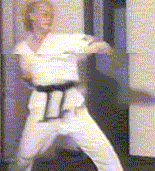 In order to hold onto the studio, they must face the vicious mobster Lucero and his army of ninjas. However, the villains soon find out that it's not going to be easy to defeat Matt and his daughters..

because the young girls are all black belts! And the heroes become an even more powerful force to be reckoned with when the girls' friends, the Black Belt Angels, come to their aid. This is more for the m/f kick and punch enthusiasts than people who prefer clinches and "holds".
Films that may have some interest for people who like erotic wrestling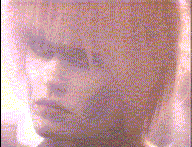 Blade Runner DC ,sf,5 (Robots who have only 5 years to live rebel against their creator, demanding indefinite lifespan. Harrison Ford plays the Bladerunner, whose job it is to exterminate these robots who are rebelling against their makers. Some of these robots are made in the form of human females, and one is a "military pleasure robot". The films paints an innaccurately gloomy picture of the future, but is great fun and has superb atmosphere and sound track.)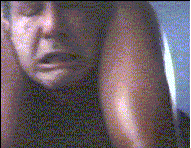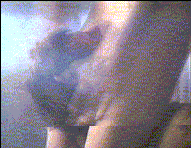 DC= Director's cut. Get one or the other - there is an excellent m/f fight scene where a "military pleasure robot" Pris (Darryl Hannah) fights with the Blade Runner (Harrison Ford) or possibly their stunt doubles :-)
These have wrestling holds within them:
As I get to see them I will add animations to this page.
Barfly:f/f/ and m/m in this film about an alcoholic. Click on the linkl and read the reviews and decide for yourself. Alsot of ASFW people seem to rave about it, have not seen it myself yet.
From Russia With Love:Body Scissors f/f, Belly Punching f/m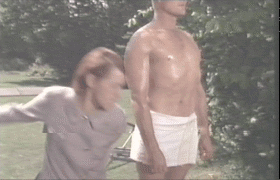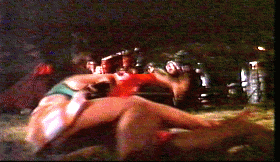 Less of the sci-fi in this second Bond film. However after 15 minutes we see a f/m belly punch, shown here on the left. After 45 minutes we get the famous gypsy fight, a body scissors from which is seen on the right. Bond eventually stops the fight, which move would probably be seen as non PC by today's feminists. The rest of the film has lively action and the Bond music that goes with it makes excellent entertainment.
Diamonds are Forever: Head Scissors f/m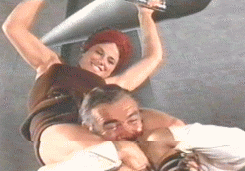 Connery's Bond is less lecherous than before and less foppish and he's better this way. In this one, Bond is attacked by two Amazons named Bambi and Thumper. Apart from this, the Bond Girl Tiffany is great to look at, and the plot an entertaining romp, which starts with some fairly normal chase are persuit scenes and ends in high sci-fi in true Bond tradition. The "premature cremation" scene in the funeral parlour was a nice satirical look at this "industry".
Goldeneye: Body Scissors f/m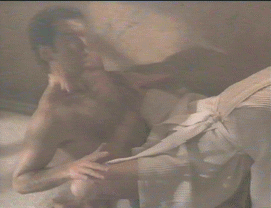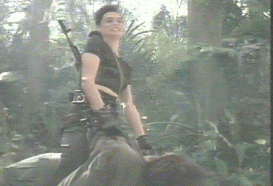 the Peirce Bronsan James Bond Movie made in 1995. From the "Radio Times": There are some splendid Bond girls, including Izabella Scorupco and feisty Famke Janssen (soon to be seen as a bookish teacher in "The Faculty") as a villain who kills by crushing her victims between her thighs. Actually I was somewhat dissapointed by the scissors holds, three in all. They were poorly photographed and all were side to side. Apart from that, though, there were plenty of pretty girls and strong women parts and all the usual Bond hokum. If you like Bond movies, you'll like this, but the scissors are left much to the imagination.
Modesty Blaise: standing scissors strangle
Director Losey made this adaptation of the comic strip about a sexy female spy. Filmed at the height of the pop-art craze, it tries to be a spoof at times, doesn't know what it's supposed to be at other moments.
War of the Roses: side to side body scissors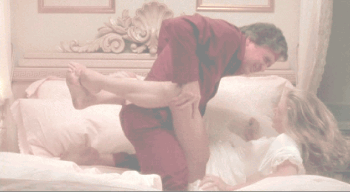 The saga of a marriage that goes sour, to say the least; when Douglas and Turner can't agree on a property settlement in their divorce proceedings, war breaks out in (and over) their exquisitely appointed house. A satiric commentary on yuppie materialism. The couple grow increasingly vicious and irrational, literally destroying their home.
Die Hard 2: rough foreplay f/m
Stupendously unbelievable but very entertaining sequel to the action hit; while waiting for his wife to land at Washington's Dulles Airport, Willis dives head-first into trouble when he gets wind of an impending terrorist-type plot. Lots of violent, large-scale action, and lots of fun.
One Million years BC: wrestling match f/f
Skin Deep: scissors
The hero of the story is a novelist named Zach (John Ritter), whose life is coming apart at the seams. He's got writer's block. He can't stop chasing every pretty girl who comes along. His wife is leaving him. His agent is dying. The opening scene is an indication of his desperation: His mistress catches him in bed with her hairdresser, and then his wife walks in on all three of them. Zach is a pathetic case, but the movie is wicked and lighthearted as it follows his misadventures with a parade of bedable women. One of them is a massive body-builder. The women in the movie all have something in common they're interesting, opinionated individuals.
Double Impact: m/f
Cory Everson starred with Jean-Claude Van Damme in Double Impact and did some nice m/f scenes therein. Identical twins are separated at six months when Hong Kong thugs murder their parents, only to be reunited in revenge a quarter-century later.
Aces: Iron Eagles III m/f scissors
Maverick pilot Gossett and a group of WW2 veteran pilots stage an air raid on a Peruvian cocaine factory (having run out of targets in the Middle East). Melange of flyboy machismo and action with the novelty of female bodybuilder McLish in the cast.
Shallow Grave: m/f neck stomp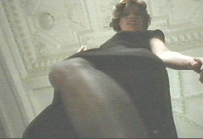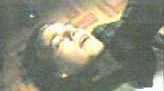 I cannot recommend this film which I thought was plain horrible, but I suppose if you like violent m/m action, such as slow drowning in a bath you'll love it. The Radio Times gave it five stars. I would have given it one just for the scene I append. If it was absent, then I would have given it zero. I can't recall any other m/f scenes.
Dinosaur Island breast ripping
Michelle Bauer and Toni Naples did the breast ripping wrestling in this made-for-video store resale video about US aviators who crash land on an island inhabited by bikinied cave women who are chased by a t-rex left over from a 1950's prehistoric movie set. Click on the link above to see viewers' reviews and links to similar films.
These have a "strong woman" theme:
Blood from the Mummy's Tomb ,h,4 (mummy horror)
Attack of the Fifty Foot Woman,sf,2 (sci-fi B movie)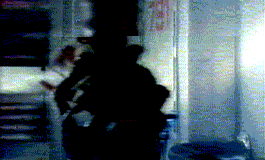 Alien Trilogy, sf,5 (the 3 films about the outer space parasite, featuring Sigourney Weaver as Commander Ellen Ripley seen here hanging in there as the alien tried to pull her leg off. This trilogy is set in a future where government and big business treat individuals as dirt as they struggle for supremacy. Here "the company" tricks individuals to get the secrets of the alien's genetic code for biological weapons development. The aliens are mindless but highly efficient parasites. )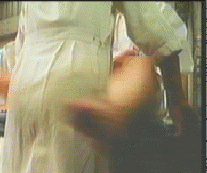 Alien Resurrection, sf,5 (A sequel to these 3 films about the outer space parasite, again featuring Sigourney Weaver as Commander Ellen Ripley seen here delivering a side to side body scissors early in the film. The plot here has Ellen resurrected from DNA samples and what records exist of her personality, in order to retreive the alien DNA mixed with them, for military purposes.
This is not the same process as cryopreservation but as the original trilogy had her burned to nothing this was the best the script writers could come up with.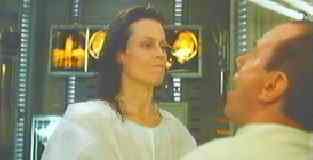 We thought it amusing that Ellen was conveniently aged 15 years even though she had been resurrected. With that sort of technology why not make her 25 again? - Hint - the make up department?)
Love at First Bite ,ch,4 (vampire comedy)
Supergirl, sf,3
The Hunger ,h,5 (female vampire)
Red Sonja (m) ,f,4 (sword and sorcery)
Barbarella ,sf,3 (You will love it - if you have not seen it you are in for a treat.)
These are all good films - well worth getting if you have not seen them already:
2001 2010 space odyssey,sf,5 (the sci-fi classics)
A Fistful of Dollars,w,3 (Western with the unforgettable theme tune from Morricone)
Abdication ,h,3 (possibly could be a woman and power movie)
Back to the Future ,sf,3
Belly of an Architect, l,3 (libertarian movie)
Black Hole, sf,3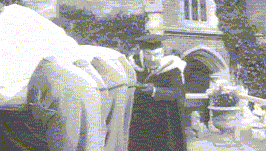 Bottoms Up, c,3 (comedy about a headmaster who likes whacking small boys) Unfortunately this black and white widescreen movie doesn't appear to be available on video. However it does have some historical significance, as a film or broadcast on such a subject would hardly be "politically correct" these days. The BBC ran a comedy radio series for many years starting in the late 1950s, starring Jimmy Edwards as the headmaster and Roddy Maude-Roxby as Mr Aubrey Potter, his second in command. June Whitfield played the school matron, usually called "Matron", although in one episode we did hear that her name was "Bunty".
Chiller ,h,2 (anti-science horror)
Chinese Ghost Story ,h,?
Chronos, ch,? (Time travel comedy)
Cloning of Joanna May, sf,5 (Time travel romance)
Coccoon, sf,5 (excellent sci-fi)
Contact, sf,5 (excellent sci-fi)
Commando ,h sf,?
Conan the Barbarian, f,4
Cruel Train, h,4
Death Ship, h,4 (ghosts at sea)
Dracula (Mevagissey),h,4
Dracula 1972, h,4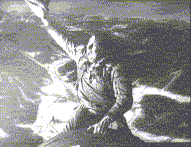 Dr Strangelove The satirical film about the cold war. The animation comes from the film., cw,6
Duel,h,5 (the film about the evil lorry that pursues a motorist)
Dune (s) ,sf,5
Fall of House of Usher ,h,4 (Poe horror)
The Man Who Would be King ,-,5 (Kipling story)
Fatherland, sf,5 (Believable story - if the Krauts won, how the world would be)
Firefox, sf,5 (borderline SF)
Forbidden Planet, sf,5 (SF Classic)
Forever Young, sf,5
Frankenstein - True Story. ,h,5
Good Bad & Ugly, w,3 (western)
Gorky Park, -,3
Hang 'em High , w,2
Harold and Maude, c,5 (Unusual comedy about a young man obsessed with funerals who has a relationship with an old woman)
High Plains Drifter, w,3
Highlander ,sf,5 (Great music, silly story about warring "immortals" who have to kill each other off leaving "only one" - yes, I know they can't be immortal if they can be killed ...)
Highlander 2 ,sf,4
If ,cd,5 (About a UK public school - ends in an armed uprising after many brutal beatings etc.)
Independence day, sf,3
Jamaica Inn ,-,3 (Cornwall romance)
Land of Pharoes (s),h,4 (An unusual and brilliant film about building the pyramids.)
Leap of Faith ,?,? (A brilliant examination of the con known as religion)
Lifespan ,sf,?
Lord Jim,-,5 (The superb take by Joseph Conrad in an excellent production)
Lorenzo's Oil, -,4 (Battle against the medical establishment)
Man with Two Brains ,ch,5 (very funny SF comedy)
Masque of Red Death, h,4 (another good Poe film)
Massacre at Rome , war,5 (excellent view of war and religion)
Moonraker ,-,5 (The James Bond film about the space shuttle - one of the best)
Music Lovers ,-,2 (one of Ken Russell's irreverent looks at classical musicians)
Mutiny on the Bounty (Vangelis version),-,5
Mutiny on the Bounty, -,4
Navigator ,sf,4 (Engrossing, very imaginative tale of psychic boy in tiny medieval English village who, to protect villagers from the plague, leads a tunneling expedition--which emerges in a modern city in 1988. )
O Lucky Man, ch,4 (good comedy about British middle class dropouts of the 60s. Mammoth allegory with surrealistic flavor about young coffee salesman who pushes his way to the top only to fall and rise again)
Omega Man ,sf,5 (Poor moral, but great film! This is a top "10" classic which is way ahead of its time by todays standards. You are on the edge the whole time, even if its been seen 10 times before )
Omen II ,h,5 (The best of the Omen films)
Other Side of the Sun ,sf,4
Pale Rider w,3
Paton Lust for Glory, war,5
Peggy Sue ,sf,5 (Time travel romance)
Psychomania ,h,3 (Good 60s lifestyle film Pact with Devil brings British motorcycle gang back from the grave. Lots of weird violence as undead bikers blaze a kamikaze trail of destruction across prepunk England)
Quadrophenia, h,3 (Good 60s lifestyle film Franc Roddam's terrifically energetic movie, set to music from the Who's Quadrophenia, is--at the very least, the best film ever based on a rock album (and, yes, that includes, Tommy, Pink Floyd: The Wall, and Jesus Christ Superstar). Actually, this tale of the battle between two early '60s youth subcultures--Mods and Rockers--in the seaside teenage wasteland of Brighton, England)
Quatermass, sf,5
Quest for Love, sf,5 (Excellent parallel worlds romance)
Raise the Titanic, sf,5 (The critics hated it, I loved it)
Schindler's List, war,5 (excellent lesson for us all!)
Scream Scream, h,?
She ,h,4 (The Rider Haggard classic)
Shop of Horrors ,ch,5
Sleeper ,sf,5 (One of Woody Allen's best.)
Splash ,csf,5 (The Daryl Hannah romantic fantasy - would you give up everything to go with her to a new world?)
Stargate, sf,5
Star Trek V - final frontier, sf,5
Star Trek - Voyage Home, sf,5
Terminator II - Judgement Day, sf,5
The Arrival, s,4 (An alien contact film)
The Fly II, sf,5 (By far the best Fly film - the development of the transporter)
The Raven, h,5 (Superb 1930s horror - forget the black and white and poor sound. Momentous teaming of horror greats with Lugosi as doctor with Poe-obsession, Karloff a victim of his wicked schemes. Hinds is subjected to torture from ``The Pit and the Pendulum'' in film's climax. Great fun throughout. )
The Abyss, sf,5
The Search For Spock ,sf,5
The Silence of the Lambs, h,5 (well made film, grisly subject)
The Last temptation of Christ, -,5
The Rose ,m,5 (Excellent pop singer life story)
The Fountainhead ,l,3 (Ambitious but confused version of Ayn Rand philosophic novel, spotlighting an idealistic architect's clash with compromises of society; )
The Undead ,h,? Vampire western
The Empire of the Sun ,war,5 (superb war film)
They Live ,h,?
Thunder over the Plains ,w,3
Timescape ,sf,?
Titanic, -,5 (The hype is for once correct)
Total Recall, sf,5
Two Way Stretch ,c,5 (Classic male prison comedy - recommended.)
Unman Whittering and Zhigo, h,5 (excellent school film - again recommended.)
Vamp ,ch,? Female vampire
Vengeance of She ,-,3
War of Worlds ,sf,4
Woody Allen: death and sex ,ch,3
Zepplin, war,5
key to type:
c comedy
cd comedy drama
ch comedy horror
csf comedy science fiction
f fantasy
h horror
l libertarian
m musical
sf science fiction
war
w western