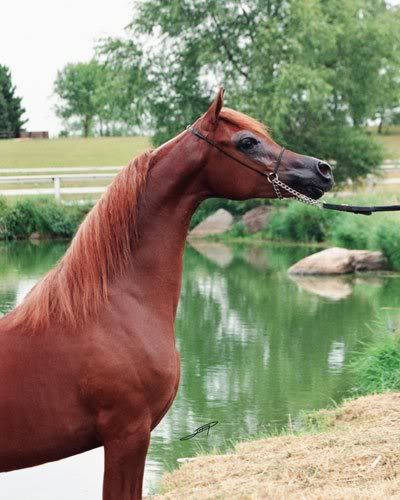 BORJCZKY+/ 1987 Chestnut Polish Arabian Mare
Sired by Europejczyk and Out of Euterpe (x Probat)
Retired to Brood in March 2007
Our best sporthorse mare, Borjczky has built a name for herself and despite her age she is still going strong in the showing arena. We've loved this girl since the day we saw her and immediately had to have her join our stable roster. She has been ablessing to have and has done wonders in the ASAHA show circuit - which is now the AHAC, and has produced some of the best sport horses in the arab world. Borjczky is a delicate, petite mare with a feminine and youngly sculpted body with a nicely dished head, kind eyes, and alert ears. Originally planned as a broodmare, Borjczky has a career that most horses never see; she is an amazing competitor with a lot of charisma. The judges admittedly tell of the presence she brings in the arena.





EUROPEJCZYK

*El Paso
Czort
Ellora
Europa
Bandos
Eunice

EUTERPE

Probat
Phoaniec
Borexia
Eunice
Comet
Epigona

- BT Beyrifaar, 2005 Bay Polish Mare By BT Bey Shaitti
- BT Borowska, 2005 Chestnut Polish Filly By *Census
- BT Bajymor, 2004 Bay Polish Colt By *Census
- BT Bczwel, 2003 Grey Polish Mare By G Cromwell
- BT Bwiazot, 2002 Chestnut Polish Stallion By *Census
- BT Blackwoods Mockinbird, 2001 Pal. Morab Mare By Blackwoods Finch
- BT Budizslaw, 1999 Chestnut Polish Stallion By Atticus
- BT Burkaany, 1995 Grey Polish Mare By Daena VI
- BT Borwaycus, 1997 Chestnut Polish Mare By Atticus
- BT Burnalia, 1997 Chestnut Polish Mare By *Blow surrogate used





3'0 Show Jumping & Grand Prix Dressage
AHAC Points: 526
AHAC Title: Legion of Supreme Honor (+/)



The Jubilee Showcase 2005
Top Ten - Arabian Senior Breeding Mare 6 & Over
2005 ASAHA Elran Cup
Top Ten - 10 and Up Year Old Mares
2005 ASAHA Region 3 Sporthorse Championships
Champion - Intermediate II Dressage
Champion - Regular Working Hunter (Fences 3' to 3'3")
Top Five - Freestyle Dressage to Music
2005 ASAHA Region 7 Championships
Champion - Intermediate II Dressage
Top Five - Sport Horse Under Saddle Open
Top Five - Regular Working Hunter (Fences 3' to 3'3")
2005 ASAHA Salon Du Cheval
Top Ten - 10 and Up Mares
2006 ASAHA Region 2 Championships
Champion - Intermediate II Dressage
Top Ten - 14 And Up Mares
Top Ten - Senior Sporthorse Mares
Top Ten - Regular Working Hunter (Fences 3' to 3'3")
AHAC 2006 Menton International
International Champion Sporthorse Mare
Unanimous Champion - Intermediare I Dressage
Champion - Senior Sporthorse Mares
Top Ten - Eleven and Up Year Old Mares
Top Ten - Jumper (Fences 3'3 to 3'6)
AHAC 2006 Canadian National Championships
Unanimous Champion - Intermediare II Dressage
Top Ten - Eleven and Up Year Old Mares
Top Ten - Senior Sporthorse Mares
Top Ten - Regular Working Hunter (Fences 3' to 3'3)
AHAC Elran Cup 2006
Top Ten [G2] - Ten and Up Year Old Mares
AHAC 2006 Region 1 Championships
Champion - Regular Working Hunter (Fences 3' to 3'3)
Champion - Intermediare II Dressage
ResChampion - Senior Sporthorse Mares
Top Ten [G2] - Eleven and Up Year Old Mares
AHAC Merrist Wood 2006
Champion - Intermediare II Dressage
Top Ten [G3] - Eleven and Up Year Old Mares
Top Ten - Regular Working Hunter (Fences 3' to 3'3)
AHAC 2006 All Nations Cup
Top Ten [G2] - Ten and Up Year Old Mares
AHAC 2006 Ströhen International
Top Ten [G4] - Eleven and Up Year Old Mares
AHAC 2006 Sporthorse Nationals
Champion - Intermediate II Dressage
Top Ten - Senior Sporthorse Mares
Top Ten - Sporthorse Under Saddle Open
Top Ten - Regular Working Hunter (Fences 3' to 3'3)
AHAC 2006 Ajman
ResChampion [G3] - Eleven and Up Year Old Mares
2006 Jawhar Arabian Sporthorse Show
Champion - Intermediate II Dressage
ResChampion - Regular Working Hunter (Fences 3' to 3'3)
ResChampion - Sporthorse Under Saddle Open
Top Ten - Senior Sporthorse Mares
AHAC 2006 Middle East Championships
Champion - Intermediate II Dressage
Top Ten - Regular Working Hunter (Fences 3' to 3'3)
Top Ten [G2] - Eleven and Up Year Old Mares
AHAC 2006 European Championships
Champion - Intermediate II Dressage
Top Ten - Sporthorse Under Saddle Sr. Horse
Top Ten - Regular Working Hunter (Fences 3' to 3'3)
Top Ten [G3] - Eleven and Up Year Old Mares
AHAC 2006 Israel National Championship
Champion - Intermediate II Dressage
Top Ten - Senior Sporthorse Mares
Top Ten - Sporthorse Under Saddle Sr. Horse
Top Ten - Regular Working Hunter (Fences 3' to 3'3)
Top Ten [G2] - Eleven and Up Year Old Mares
AHAC 2006 Egypt International
Champion - Intermediate II Dressage
Top Ten - Eleven and Up Year Old Mares
Top Ten - Regular Working Hunter (Fences 3' to 3'3)
Top Ten [G2] - Senior Sporthorse Mares
AHAC 2006 Dubai International
Top Ten [G4] - Eleven and Up Year Old Mares
AHAC 2006 Salon du Cheval
Champion [G4] - Ten and Up Year Old Mares
Top Ten [G2] - Most Classic Mares
AHAC Sharjah 2006
Champion - Sporthorse Under Saddle Sr. Horse
Champion - Intermediate II Dressage
ResChampion [G3] - Freestyle Dressage
Top Ten [G2] - Senior Sporthorse Mares
Top Ten [G2] - Eleven and Up Year Old Mares
Top Ten [G9] - Classic Head Mares
AHAC Emerald Trophy 2006
Champion - Intermediate II Dressage
Top Ten - Eleven and Up Year Old Mares
Top Ten - Regular Working Hunter (Fences 3' to 3'3)
Top Ten [G2] - Sporthorse Under Saddle Sr. Horse
AHAC Asil Cup 2006
Top Ten - Classic Head Mares
Top Ten [G2] - Eleven and Up Year Old Mares
AHAC 2007 Region 1 Championships
Champion - Sporthorse Under Saddle Sr. Horse
Champion - Grand Prix Dressage
Top Ten - Freestyle Dressage
Top Ten [G2] - Senior Sporthorse Mares
Top Ten [G5] - Eleven and Up Year Old Mares
AHAC 2007 Region 2 Championships
Champion [G3] - Sporthorse Under Saddle Sr. Horse
ResChampion - Grand Prix Dressage
Top Ten [G2] - Freestyle Dressage
Top Ten [G2] - Senior Sporthorse Mares
Top Ten [G12] - Eleven and Up Year Old Mares
AHAC 2007 Ajman
Top Ten - Eleven and Up Year Old Mares
AHAC 2007 Scottsdale Show
Top Ten - Grand Prix Dressage
Top Ten [G3] - Senior Sporthorse Mares
Top Ten [G3] - Sporthorse Under Saddle Sr. Horse
Top Ten [G5] - Freestyle Dressage
Top Ten [G6] - Eleven and Up Year Old Mares
AHAC 2007 Qatar International
Champion - Grand Prix Dressage
Top Ten - Senior Sporthorse Mares
Top Ten - Sporthorse Under Saddle Sr. Horse
Top Ten [G2] - Freestyle Dressage
Top Ten [G3] - Sixteen and Up Mares