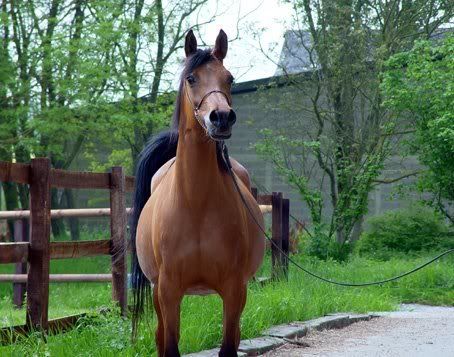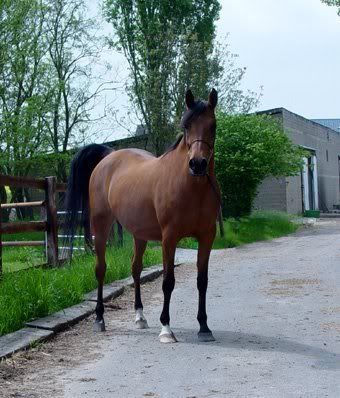 ATUAN AZGARD+/ 1995 Bay Polish Arabian Mare
Sired by Atuan Zachariasz and Out of Atuan Alberta (x Gil)
Purchased from Eni under contract, No Longer Valid: Eni Quit
When we had our February '07 Foal Crop we traded BT Ecstacy for this beautiful senior breeding mare. One of two Atuan Arabian's homebreds to have stepped foot in Blackthorn Hills, Atuan Azgard is among my favorites mares. She has this sense of style and knows how to carry herself in-hand. She has a lot of presence and charisma. Not only is she planned to be a show mare but also a big part of our breeding program. She will be bred to some of our well-known Polish stallions.





ATUAN ZACHARIASZ

Eurol
Alegro
Europa
Zazula
Negatiw
Zlota Iwa

ATUAN ALBERTA

Gil
Probat
Gildia
Aladyna
Banat
Alchemia

- BT Alesky, 2000 Grey Polish Stallion Sired by *Blow
- BT Azterical, 2001 Chestnut Morab Colt by Blackwoods Finch





Country English Pleasure/Driving and Native Costume
AHAC Points: 599
AHAC Title: Legion of Supreme Merit (+/)
AHAC 2007 Scottsdale Show
Champion G7 - Native Costume
Top Ten - Country Pleasure Driving Sr. Horse
Top Ten G2 - Country English Pleasure Sr. Horse
Top Ten G10 - Eleven and Up Year Old Mares
AHAC 2007 Qatar International
Champion G4 - Classic Head Mares
ResChampion G3 - Eleven to Fifteen Mares
Top Ten - Country English Pleasure Sr. Horse
Top Ten - Country Pleasure Driving Sr. Horse
Top Ten - Native Costume Sr. Horse
AHAC 2007 Ströhen International
Top Ten G3 - Eleven to Fifteen Mares
AHAC 2007 Egyptian National Championships
Champion G9 - Eleven to Fifteen Mares
ResChampion G6 - Native Costume Sr. Horse
Top Ten - Country Pleasure Driving Sr. Horse
Top Ten G2 - Country English Pleasure Sr. Horse
Top Ten G3 - Classic Head Mares
AHAC 2007 Sharjah International
Top Ten - Native Costume Sr. Horse
Top Ten - Country Pleasure Driving Sr. Horse
AHAC Abu Dhabi 2007
Top Ten - Eleven to Fifteen Mares
Badi Arabian Event 2007
Top Ten - Eleven to Fifteen Mares
BT Gharkwan Arabian Spectacular 2007
Top Ten - Eleven to Fifteen Mares
AHAC 2007 U.S Nationals
ResChampion - Native Costume Sr. Horse
Top Ten - Country English Pleasure Sr. Horse
AHAC Arabian Breeders World Cup 2007
Champion - Native Costume Sr. Horse
Top Ten - Country Pleasure Driving Sr. Horse
AHAC Tulip Cup 2007
Top Ten - Eleven to Fifteen Mares
AHAC 2007 Jordan National Championships
Top Ten - Country Pleasure Driving Sr. Horse
Spirit Creek Classic Region I Show B 2007
Top Ten - Classic Head Mares
AHAC Menton International 2007
ResChampion - Country English Pleasure Sr Horse
Top Ten - Classic Head Mares
Top Ten - Country Pleasure Driving Sr Horse
Top Ten - Native Costume Sr Horse
AHAC German National Championships 2007
Top Ten - Eleven to Fifteen Mares
Top Ten - Country Pleasure Driving Sr Horse
AHAC Emerald Trophey 2007
Top Ten - Eleven to Fifteen Mares
Top Ten - Country English Pleasure Sr Horse
Top Ten - Country Pleasure Driving Sr Horse
Top Ten - Ladies English Sidesaddle
AHAC Scandinavian Open Championships 2007
Champion - Country English Pleasure Sr Horse
Top Ten - Country Pleasure Driving Sr Horse
AHAC Mooslargue 2007
ResChampion - Eleven to Fifteen Mares
ResChampion - Country English Pleasure Sr Horse
Top Ten - Country Pleasure Driving Sr Horse
AHAC Vilhelmsborg 2007
Top Ten - Country English Pleasure Sr Horse
Top Ten - Country Pleasure Driving Sr Horse
Top Ten - Native Costume Sr Horse
Akmal Arabians Extravaganza 2007
Champion - Country Pleasure Driving Sr Horse
ResChampion - Eleven to Fifteen Mares
Top Ten - Country English Pleasure Sr Horse
Top Ten - Native Costume Sr Horse
AHAC Danish National Championships 2007
Champion - Eleven to Fifteen Mares
Champion - Country Pleasure Driving Sr Horse
Top Ten - Country English Pleasure Sr Horse
AHAC British National Championships 2007
ResChampion - Country English Pleasure Sr Horse
Top Ten - Country Pleasure Driving Sr Horse
AHAC St Petersburg Open 2007
ResChampion - Country Pleasure Driving Sr Horse
Top Ten - Eleven to Fifteen Mares
Top Ten - Country English Pleasure Sr Horse
Top Ten - Native Costume Sr Horse
Southern Acres Inc Arabian Show I 2007
Champion - Country English Pleasure Sr Horse
Champion - Country Pleasure Driving Sr Horse
Champion - Native Costume Sr Horse
Top Ten - Eleven to Fifteen Mares
AHAC Brussels Arabian Trophey 2007
Top Ten - Eleven to Fifteen Mares
Top Ten - Country English Pleasure Sr Horse
ResChampion - Country Pleasure Driving Sr Horse
ResChampion - Native Costume Sr Horse
AHAC Towerlands UK 2007
International Champion Senior Mare
Champion - Eleven to Fifteen Mares
Kingsgate Arabian Show 2007
Overall Champion Senior Mare
ResChampion - Eleven to Fifteen Mares
AHAC All Nations Cup 2007
Top Ten - Eleven to Fifteen Mares
AHAC Merrist Wood 2007
Champion - Country English Pleasure Sr Horse
Champion - Native Costume Sr Horse
Top Ten - Country Pleasure Driving Sr Horse
Top Ten - Eleven to Fifteen Mares
AHAC Elran Cup 2007
ResChampion - Eleven to Fifteen Mares