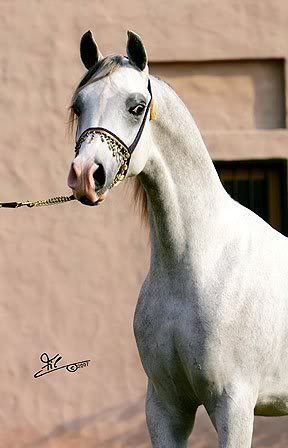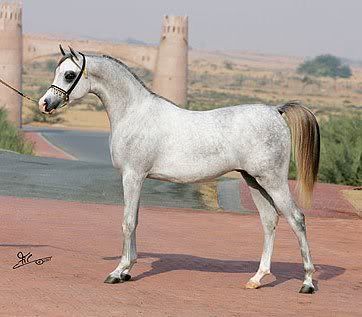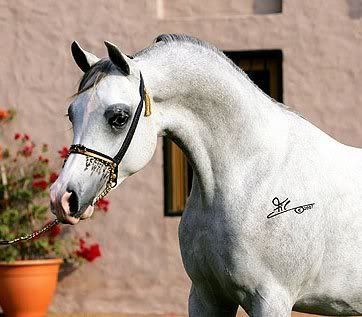 BT DISCOVERY++++ 2001 Grey Polish Arabian Stallion
Sired by *Blow and Out of Dzeckja (x *Lech)
BT Discovery is my favorite homebred, hands down. He was born in April of 2007 and the minute he hit the ground I decided he would be the next generation of Blackthorn Hills. He was among 15+ foals to be born in our April foal crop and I must say, he is the epitome of the Arabian breed. A carefully sculpted head with dominating eyes speaking of truth and beauty, BT Discovery is the start of a new legacy. His sire, *Blow, came to us in 2006 from Poland and has become a sought after stallion. With a number of well accomplished foals on the grounds already and unmatched Dressage maneuvers, *Blow was the perfect choice to breed to a *Lech daughter. Dzeckja, BT Discovery's dam, is one of our prized Polish Show Mares. Before we came to breed a foal for ourselve Dzeckja was bred to *Blow once before and produced a typey mare with a competitive nature. BT Discovery is everything we hoped for. He's a bit hotheaded and likes to play the role of the King, but we can forgive such an impeccable Stallion for the arrogance he posseses. Afterall, it's a much earned attitude.





*BLOW++++

*Ecaho
Pepton
Etruria
Borgia
Aloes
Borowina

DZECKJA+

*Lech
Palas
*Dunkierka
Dahhncer
*Penitent
*Passionate

- Carnival Of Rust D, Polish Colt Out of BT Emilacj
- BT Erwijn, 2004 Grey Polish Colt Out of BT Erykah





1st Level Dressage and Low Jumper
AHAC Points: 1691
AHAC Title: Legion of Masters (++++)
AHAC Abu Dhabi 2007
Top Ten - Six Year Old Stallions
BT Sitwat Arabian Show 2007
Champion - Low Jumper (Fences 3'3 to 3'6)
Top Ten - Six Year Old Stallions
Badi Arabian Event 2007
Top Ten - Six Year Old Stallions
Weatherlord Farm Classic Circuit Show B 2007
Top Ten G3 - Classic Head Stallions
AHAC 2007 U.S. Nationals
Champion - Junior Sporthorse Stallions
Top Ten - Six Year Old Stallions
AHAC Arabian Breeders World Cup 2007
Top Ten - Six Year Old Stallions
Top Ten - Classic Head Stallions
Top Ten - Junior Sporthorse Stallions
Top Ten - Low Jumper (Fences 3'3 to 3'6)
AHAC Wels International 2007
Top Ten - Six Year Old Stallions
AHAC Tulip Cup 2007
Top Ten - Six Year Old Stallions
Top Ten - Liberty Jr. Stallion
AHAC 2007 Jordan National Championships
ResChampion - Low Jumper (Fences 3'3 to 3'6)
Top Ten - Six Year Old Stallions
Top Ten - Junior Sporthorse Stallions
AHAC 2007 Emerald Trophy
Top Ten - Six Year Old Stallions
Top Ten - Classic Head Stallions
Top Ten - Junior Sporthorse Stallions
Top Ten - First Level Dressage
Top Ten - Low Jumper (Fences 3'3 to 3'6)
AHAC 2007 Scandinavian Open Championships
Top Ten - Six Year Old Stallions
Top Ten - Junior Sporthorse Stallions
Top Ten - Sporthorse Under Saddle Jr. Horse
Top Ten - First Level Dressage
Top Ten - Low Jumper (Fences 3'3 to 3'6)
AHAC Danish National Championships 2007
Top Ten - Six Year Old Stallions
Top Ten - Junior Sporthorse Stallions
Top Ten - First Level Dressage
Top Ten - Low Jumper (Fences 3'3 to 3'6)
AHAC 2007 British National Championships
Most Classic In Show
Champion - Classic Head Stallions
Top Ten - Six Year Old Stallions
Top Ten - Freestyle Dressage
Top Ten - Junior Sporthorse Stallions
AHAC 2007 Asil Cup
Top Ten - Six Year Old Stallions
AHAC 2007 Brussels Arabian Trophy
Top Ten - Six Year Old Stallions
Top Ten - Freestyle Dressage
Top Ten - Junior Sporthorse Stallions
Top Ten - First Level Dressage
Top Ten - Low Jumper (Fences 3'3 to 3'6)
AHAC 2007 Towerlands UK
Top Ten - Six Year Old Stallions
AHAC Elran Cup 2007
ResChampion - Six Year Old Stallions
AHAC 2007 Merrist Wood
Top Ten - Six Year Old Stallions
Top Ten - Junior Sporthorse Stallions
Top Ten - First Level Dressage
Top Ten - Low Jumper (Fences 3'3 to 3'6)
AHAC 2007 All Nations Cup
Top Ten - Six Year Old Stallions
AHAC 2007 Moroccon National Championships
Top Ten - Six Year Old Stallions
Top Ten - Freestyle Dressage
Top Ten - Junior Sporthorse Stallions
Top Ten - Low Jumper (Fences 3'3 to 3'6)
AHAC 2007 Norwegian National Championships
Top Ten - Six Year Old Stallions
Top Ten - Classic Head Stallions
AHAC 2007 US Sporthorse Nationals
Top Ten - First Level Dressage
Top Ten - Low Jumper (Fences 3'3 to 3'6)
AHAC 2007 European Championships
Top Ten - Six Year Old Stallions
Top Ten - Freestyle Dressage
Top Ten - Junior Sporthorse Stallions
Top Ten - First Level Dressage
Top Ten - Low Jumper (Fences 3'3 to 3'6)
AHAC 2007 Dutch National Championships
Champion - Six Year Old Stallions
2007 Blackthorn Hills Homebred Invitational III
Top Ten - Junior Breeding Stallion
BT Rizwana Arabian Spectacular 2007
Top Ten - Six Year Old Stallions
Top Ten - First Level Dressage
Top Ten - Low Jumper (Fences 3'3 to 3'6)
AHAC 2007 Egypt International
Top Ten - Junior Sporthorse Stallions
Top Ten - First Level Dressage
AHAC 2007 Brazilian National Championships
Top Ten - First Level Dressage
Top Ten - Low Jumper (Fences 3'3 to 3'6)
AHAC Sharjah 2007
Top Ten - Junior Sporthorse Stallions
Top Ten - Low Jumper (Fences 3'3 to 3'6)
AHAC 2008 Region 1 Championships
Top Ten - Seven Year Old Stallions
Top Ten - Most Classic Sr Stallion
Top Ten - Sporthorse Under Saddle Sr. Horse
Top Ten - Freestyle Dressage Sr Horses
AHAC 2008 Canadian Nationals
Champion - First Level Dressage
Top Ten - Seven Year Old Stallions
Top Ten - Most Classic Sr Stallion
AHAC 2008 Region 2 Championships
Top Ten - Seven Year Old Stallions
Top Ten - Get of Sire
Top Ten - Senior Sporthorse Stallions
Top Ten - Sporthorse Under Saddle Sr. Horse
AHAC Ajman National Show 2008
Champion - Seven Year Old Stallions
Champion - Most Classic Sr Stallion
Top Ten - First Level Dressage
Top Ten - Get of Sire
AHAC Abu Dhabi 2008
Top Ten - Get of Sire
AHAC Scottsdale Arabian Horse Show 2008
Top Ten - Get of Sire
Top Ten - Seven Year Old Stallions
Top Ten - Sporthorse Under Saddle Sr. Horse
AHAC 2008 Egyptian National Championships
Top Ten - Seven Year Old Stallions
Top Ten - Sporthorse Under Saddle Sr. Horse
AHAC 2008 Ströhen International
Top Ten - Seven Year Old Stallions
AHAC 2008 Arabian Masters
Top Ten - Classic Head Sr Stallions
Top Ten - Get of Sire
AHAC Qatar International 2008
International Champion Sporthorse Stallion/Colt
Champion - Senior Sporthorse Stallions
Top Ten - Most Classic Sr Stallion
AHAC 2008 Sharjah International
Top Ten - First Level Dressage
Top Ten - Get of Sire
AHAC Arabian Breeders World Cup 2008
Top Ten - Seven Year Old Stallions
Top Ten - Most Classic Sr Stallion
Top Ten - First Level Dressage
Top Ten - Freestyle Dressage Sr Horses
AHAC 2008 U.S. Nationals
Top Ten - Seven Year Old Stallions
Top Ten - Get of Sire
Top Ten - Senior Sporthorse Stallions
Top Ten - Sporthorse Under Saddle Sr. Horse
Top Ten - First Level Dressage
Top Ten - Freestyle Dressage Sr Horses
AHAC Wels International 2008
Top Ten - Seven Year Old Stallions
AHAC Travagliato 2008
Top Ten - Get of Sire
AHAC Tuilp Cup 2008
ResChampion - Get of Sire
AHAC Buckeye 2008
Top Ten - Seven Year Old Stallions
Top Ten - Most Classic Sr Stallion
AHAC Arabica 2008
ResChampion - Seven Year Old Stallions
Top Ten - Senior Sporthorse Stallions
Top Ten - Freestyle Dressage Sr Horses
AHAC Orientalica 2008
Top Ten - Seven Year Old Stallions
AHAC 2008 Jordan National Championships
Top Ten - Senior Sporthorse Stallions
AHAC 2008 Menton International
Champion - Classic Head Sr Stallions
AHAC 2008 German Nationals
Top Ten - Seven Year Old Stallions
Top Ten - Sporthorse Under Saddle Sr. Horse
Top Ten - First Level Dressage
Top Ten - Get of Sire
AHAC 2008 Czech National Championships
ResChampion - First Level Dressage
Top Ten - Freestyle Dressage Sr Horses
AHAC Emerald Trophy 2008
Champion - Freestyle Dressage Sr Horses
Top Ten - Seven Year Old Stallions
AHAC Asil Cup 2008
ResChampion - Seven Year Old Stallions
Top Ten - Get of Sire
AHAC 2008 Scandinavian Open Championships
Top Ten - Seven Year Old Stallions
Top Ten - Classic Head Sr Stallions
Top Ten - Senior Sporthorse Stallions
Top Ten - Get of Sire
AHAC Mooslargue 2008
Top Ten - Most Classic Sr Stallion
Top Ten - Get of Sire
AHAC Brussels Arabian Trophy 2008
Top Ten - First Level Dressage
AHAC Towerlands UK 2008
Top Ten - Seven Year Old Stallions
AHAC British National Championships 2008
Top Ten - Classic Head Sr Stallions
Top Ten - Get of Sire
AHAC Finnish National Championships 2008
Top Ten - Seven Year Old Stallions
AHAC Elran Cup 2008
Top Ten - Seven Year Old Stallions
Top Ten - Classic Head Sr Stallions
AHAC Vilhelmsborg 2008
ResChampion - Get of Sire
Top Ten - Most Classic Sr Stallion
Top Ten - First Level Dressage
AHAC All Nations Cup 2008
Top Ten - Most Classic Sr Stallion
Top Ten - Get of Sire
AHAC Moroccan Nationals 2008
Top Ten - Senior Sporthorse Stallions
Top Ten - First Level Dressage
AHAC Norwegian National Championships 2008
Champion - Get of Sire
Top Ten - Sporthorse Under Saddle Sr. Horse
Top Ten - Freestyle Dressage Sr Horses
Top Ten - Get of Sire
AHAC Saint Tropez Arabian Cup 2008
Champion - Freestyle Dressage Sr Horses
Top Ten - Seven Year Old Stallions
Top Ten - Senior Sporthorse Stallions
AHAC Merrist Wood 2008
ResChampion - Senior Sporthorse Stallions
ResChampion - Freestyle Dressage Sr Horses
AHAC Middle East Championships 2008
ResChampion - Most Classic Sr Stallion
Top Ten - Get of Sire
AHAC Dutch Nationals 2008
Top Ten - Get of Sire
AHAC European Championships Verona 2008
Champion - Seven Year Old Stallions
AHAC Israeli Nationals 2008
Champion - Seven Year Old Stallions
Top Ten - Get of Sire
Top Ten - Classic Head Sr Stallions
AHAC Egypt International 2008
Top Ten - Seven Year Old Stallions
Top Ten - Classic Head Sr Stallions
Top Ten - Sporthorse Under Saddle Sr. Horse
AHAC Brazilian Nationals 2008
Top Ten - Seven Year Old Stallions
Top Ten - Classic Head Sr Stallions
Top Ten - First Level Dressage
Top Ten - Freestyle Dressage Sr Horses
AHAC Verona National Championships 2008
Top Ten - Seven Year Old Stallions
Top Ten - Classic Head Sr Stallions
AHAC St. Petersburg Open 2008
Champion - Freestyle Dressage Sr Horses
Top Ten - Get of Sire
Top Ten - Senior Sporthorse Stallions
Top Ten - First Level Dressage
AHAC Salon Du Cheval 2008
Top Ten - Get of Sire
AHAC Sharjah 2008
Champion - Most Classic Sr Stallion
ResChampion - Freestyle Dressage Sr Horses
Top Ten - Seven Year Old Stallions
Top Ten - First Level Dressage
AHAC Region 1 Championships 2009
ResChampion - Eight Year Old Stallions
Top Ten - Senior Sporthorse Stallions
Top Ten - Mid-level Jumper (Fences 3'3 to 3'6)
AHAC Region 2 Championships 2009
Top Ten - Eight Year Old Stallions
Top Ten - Senior Sporthorse Stallions
Top Ten - First Level Dressage
Top Ten - Mid-level Jumper (Fences 3'3 to 3'6)
AHAC Canadian Nationals 2009
Top Ten - Mid-level Jumper (Fences 3'3 to 3'6)
AHAC Ajman National Show 2009
Top Ten - Eight Year Old Stallions
Top Ten - Mid-level Jumper (Fences 3'3 to 3'6)
AHAC Scottsdale Arabian Horse Show 2009
Top Ten - Eight Year Old Stallions
Top Ten - Mid-level Jumper (Fences 3'3 to 3'6)
AHAC Voghera 2009
Top Ten - Eight Year Old Stallions