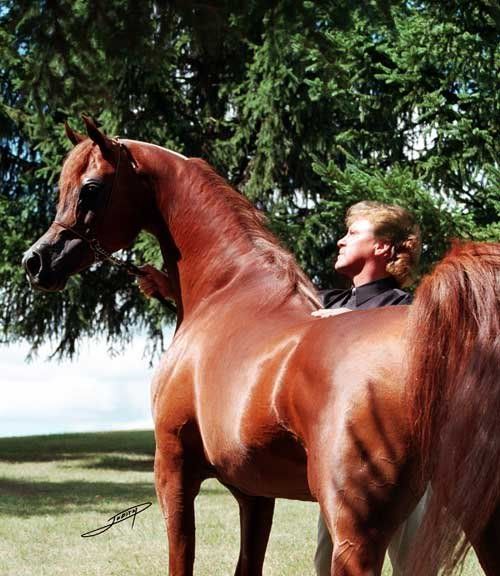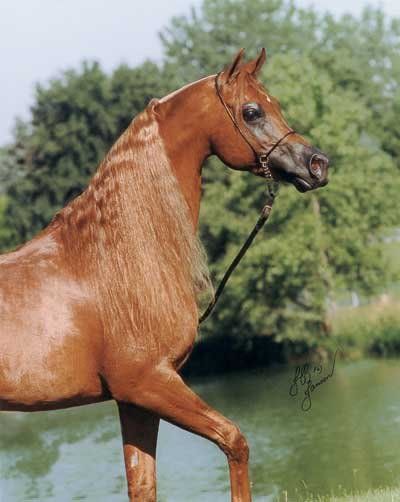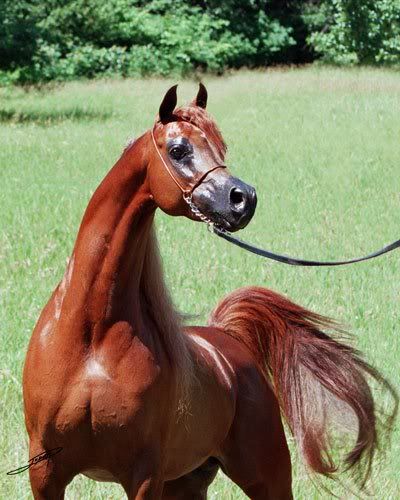 ATTICUS++++ 1994 Chestnut Polish Arabian Stallion
Sired by *Monogramm and Out of Kawalkada (x Penitent)
About the Horse Atticus is Blackthorn Hills foundation stallion, and one of the top showing & breeding arabians in the SIM world today. He has beauty, grace, elegance, and wonderful action that have made him the sought after stallion he is. He happens to be a full brother to the 2004 Multi-Regional Champion, Kornwall. Atticus' conformation is one of the best I have seen throughout all of my time dealing with arabians. His head is nicely dished, throwing off an exotic & ethreal look to anyones eyes. His lips are fine and thin and his nostrils are long, thin, delicately curled, running upward, and projecting outward. When in the show ring Atticus' nostrils flare out & his tail arches behind his back, showing how beautiful the arabian breed really is. His eyes are set far apart and are large, lustrous, and when aroused, extremely attentive. He shows energy, courage, and nobility in in the show ring & amazes everyone who comes in contact with him. His coat is thick, close, fine, soft, and silky, & his mane and tail are long, and very fine in texture. Atticus is one of the few 'true-type' arabians with a pedigree made of gold. Although you find decent stallions here & there, Atticus is a dropdead gorgeous arabian stallion who is the top of his origins in ECF. He has produced many noteable & AHAC title winning foals including our top junior stallion, BT Bey Shaitti. Atticus has proven to be what we have been looking for in a lead sire, and he was actually the reason we made Atticus, Inc. in the first place, which later transferred to Badieh Jinaan Arabians and now Blackthorn Hills Farm.
Atticus has to be one of the most accomplished horses residing at Blackthorn Hills Farm, with a show record of nothing but championships & reserves. He was also lucky enough to be considered the ECF (Equine & Canine Fancy) 2004 February Horse Of The Month, proving that not only do we love him but so does the public. Atticus has been competeing in Hunter Pleasure & Western Pleasure strongly for quite some time now, but has just recently started working in Dressage at Training Level. He's been catching on easily, as hoped, and has even brought home a Championship in it at the 2006 Mooslargue International.
On August 9th of 2006 Atticus finally managed to recieve his Hall Of Fame status after coming back from the AHAC 2006 Canadian National Championships with two Reserve National Championships. He's been quite a treasure for us in the arena and with his success in the arena, he has also brought success as a sire. Not only has he been siring some of our top competitors residing within the Blackthorn Hills walls, but he has also sired noteable horses such as Ejaz, My Attica, and others. A stallion to be proud of, with a pedigree weaved with champions, he's certainly blood that'd be good to add to any stable.
About His Sire *Monogramm comes from the sire line of Kuhailan Haifi (Born in 1923) and the Mareline Sahara (Born in 1840). *Monogramm was a USA Reserve National Champion Futurity Colt, a United States Top Ten Stallion, a Regional Champion Stallion, a Scottsdale Top Ten Stallion, a Buckeye Top Eight Stallion, and a Champion Park Horse. *Monogramm was sired by Negatraz, a leading polish arabian sire, who has sired Aikon & more noteable stallions. Negatraz was the son of the immortal *Bask, a US National Champion & Park Champion, not to mention he had sired 1,045 purebred arabian foals! His dam was a lead race horse who set a racing record!
About His Dam Kawalkada was a 1993 US National Champion Mare, and comes from royal polish lines. Her sire, Penitent, was a 1986 Polish National Champion and a 1987 European Supreme Champion Stallion. Her great grandsire, Partner, was a 1979 Reserve Polish Champion, a Swedish Champion, and a Reserve European Champion! Kawalkada's dam, Kabala, was the mother of many noteable offspring, among them were Kwesta, Kordelas, and Kansata. She was a European ResChampion Mare and a Polish Junior National Champion Mare! Kabala was out of the Polish National Champion, Palas, who has sired many champions in his day.





*MONOGRAMM

Negatraz
*Bask
Negotka
Monogramma
Knippel
Monopolia

KAWALKADA

Penitent
Partner
Penza
Kabala
Palas
Kometa

BT BEY SHAITTI++++
2000 Bay Polish Arabian Stallion
Foaled out of Bey Shailaan++++/
Breeders Sweepstakes Nominated Sire

2005 All-Nations Cup Champion 5 Y/O Stallion
2006 Elran Cup ResChampion 6 Y/O Stallion
2006 Mooselargue Int Champion Junior Stallion
2006 Mooselargue Int Champion 6 Y/O Stallion
2006 Qater Int Champion 6 Y/O Stallion
2006 Merrist Wood ResChampion 6 Y/O Stallion
2006 All Nations Cup Champion 6 Y/O Stallion
2007 Israeli Natl ResChampion Senior Stallion
2007 Israeli Natl Champion 7 Y/O Stallion
2007 Ajman Natl Champion 7 Y/O Stallion
2007 Scottsdale ResChampion 7 Y/O Stallion
2007 Qatar Int Grand ResCh Classic Head Stal
2007 Qatar Int Champion Classic Head Stallion
2007 Egyptian Natl ResChampion 7 Y/O Stallion
2007 Sharjah Int ResChampion 7 Y/O Stallion
2007 European Natl ResChampion 7 Y/O Stallion
and many more accomplishments under saddle!

BT MIKATHIYA+/
2003 Chestnut Polish Arabian Mare
Foaled out of Aladeeta++
Breeders Sweepstakes Nominated Mare

2004 Scottsdale Champion Yearling Filly
2006 Menton Int ResChampion Futurity Filly
2006 Canadian Natl ResChampion Futurity Horse
2006 Canadian Natl Champion Futurity Filly
2006 Towerlands Int ResChampion Futurity Filly
2006 All-Nations Cup Champion Futurity Filly
2006 Ströhen Int Champion Futurity Filly
2006 European Natl Champion Futurity Filly
2006 Polish Natl Champion Futurity Filly
2006 Emerald Trophy Int Champion Classic Mare
and many more accomplishments under saddle!
-
Azymut C
, 2007 Bay Polish Filly Out of *Asrid
- BT Eligia-Wera, 2006 Chestnut Polish Filly Out of *Etca
- Andrzej, 2006 Bay Polish Colt Out Of Fekkar
- GM Ibn Anwar, 2006 Chestnut Colt Out Of Enchant Mi
- BT Artanis, 2005 Chestnut Polish Filly Out Of Farion Rafaar
- Antigua, 2004 Grey Polish Filly Out Of BF Fiona
- REN Awuneka, 2004 Chestnut Polish Filly Out Of G Daawunek
- BT Foolish Pride, 2004 Bay Sabino Colt Out Of Musva
- Serendipity, 2004 Chestnut Filly Out Of Mateakerr
- BT Felicyta, 2004 Grey Polish Filly Out Of Felicja
- BT Burkhanya, 2004 Polish Filly Out of BT Burkaany
-
BT Mikathiya
, 2003 Chestnut Polish Filly Out of Aladeeta
- EV Attiron, 2003 Chestnut Colt Out Of Bey Padron
- Rabi'ah, 2003 Bay Mare Out Of *Al Shahlea
- D Laheeb, 2003 Chestnut Polish Colt Out of Adhora
-
BT Daffodalia
, 2003 Chestnut Polish Filly Out of G Daawunek
- My Attica, 2001 Bay Polish Stallion Out Of *Belizaeuropa
- PL Skippacus, 2001 Grey Quarab Mare Out Of Ima Skip Away
-
Sergiusz
, 2001 Chestnut Polish Stallion Out of Striking Sonata
-
BT Mythorium
, 2000 Grey Stallion Out Of Scottish Rose
-
BT Qaamaicus
, 2000 Chestnut Mare Out Of G Shabha Qasaam
-
BT Bey Shaitti
, 2000 Bay Polish Stallion Out of Bey Shailaan
- Zapora, 2000 Chestnut Polish Mare Out Of Zamiana
-
BT Saraticus
, 1999 Grey Mare Out Of Sarabi
- BT Budzislaw, 1999 Chestnut Polish Stallion Out of Borjczky
- BT Windswept Orchid, 1998 Bay Morab Mare Out Of HVK Serenity
-
BT Czelicus
, 1998 Chestnut Polish Mare Out Of Celestyn
- BT Borwaycus, 1997 Chestnut Polish Mare Out Of Borjzcky
-
Ejaz
, 1996 Bay Polish Colt Out Of *Al Shahlea
-
BT Erykah
, 1996 Gray Polish Mare Out Of Farion Rafaar
- Callisto, 1996 Gray Mare Out Of Fajr
- EL Klassik Jaguire, Chestnut Quarab Stallion Out Of EL Jigger Jags
-
S Eugeniusz
, Bay Polish Arabian Colt Out of Epliloge
Training Level Dressage, Hunter Pleasure, & Western Pleasure
AHAC Points: 1880
AHAC Title: Legion Of Master Champion (++++)
- 2004 ECF February Horse Of The Month


2003 All Nations Cup [HF]
ResChampion - 9 Year Old Stallions
2003 Region 1 Championships [ECF]
Overall Senior Halter Division Champion
Champion - Ten & Up Year Old Stallion
Top Ten - Polish Arabian
Top Ten - Sr. Hunter Pleasure
Top Ten - Western Pleasure
Top Ten - Western Trail
2003 Salon Du Cheval
Top Ten - Breeding Aged Stallion At Halter
Top Ten - Stallion Hunter Pleasure
Top Ten - Stallion Huntseat Equitation
Top Ten - Bitted Stallion Western Trail
Top Ten - Bitted Stallion Western Pleasure
2004 Scottsdale [ECF]
Champion - Hunter Pleasure
ResChampion - Western Trail
Top Ten - Nine and Up Year Old Stallion
Top Ten - Polish Arabian Senior Horse
Top Ten - Western Pleasure
2004 Region 3 Championships [ECF]
ResChampion - Ten & Up Stallion
Top Ten - Sr. Hunter Pleasure
Top Ten - Western Pleasure
2004 Pacific Slopes [ECF]
ResChampion - Ten & Up Stallion
Top Ten - Polish Arabian
Top Ten - Sr. Hunter Pleasure
Top Ten - Western Pleasure
2004 Arabian Showcase [ECF]
ResChampion - 1994 Arabian Stallions
2004 Buckeye [ECF]
Champion - 1994 Arabian & Half-Arabian
Top Ten - Open Hunter Pleasure
Top Ten - Open Western Pleasure
Top Ten - Open Western Trail
2004 Region 4 Championships [ECF]
ResChampion - Open Hunter Pleasure
Top Ten - Open Western Pleasure
Top Ten - Open Western Trail
2004 All Nations Cup [ECF]
Champion - Ten & Up Year Old Stallions
2004 Region 5 Championships [ECF]
ResChampion - Open Western Pleasure
Top Ten - 1994 Arabian & Half-Arabians
Top Ten - Open Hunter Pleasure
Top Ten - Open Western Trail
2005 ASAHA Scottsdale
Top Ten - 10 & Up Year Old Stallions
Top Ten - Open Trail
2005 ASAHA Qatar International Show
Top Ten - 10 & Up Year Old Stallions
The Jubilee Showcase 2005
Top Ten - Arabian Senior Breeding Stallion 6 & Over
Top Ten - Arabian Jackpot Get of Sire
2005 ASAHA All Nations Cup
ResChampion - 10 and Up Year Old Stallions
2005 ASAHA Elran Cup
Champion - 10 and Up Year Old Stallions
2005 ASAHA Towerlands UK
Top Ten - 10 and Up Year Old Stallions
2005 ASAHA Region 7 Championships
Top Five - 10 and Up Year Old Stallions
Top Five - Open Hunter Pleasure
Top Five - Open Western Pleasure
Top Five - Open Trail
2005 ASAHA U.S Nationals
Top Ten - 10+ Year Old Stallions
Top Ten - Open Hunter Pleasure
Top Ten - Open Western Pleasure
ASAHA Vilhelmsborg 2006
Top Five - Twelve and Up Year Old Stallions
2006 ASAHA Region 2 Championships
Champion - Trail Open
Top Ten - 10 & Up Stallions
2006 ASAHA Hamburg Classic
ResChampion - 12 and Up Year Old Stallions
AHAC 2006 Menton International
Champion - Training Level Dressage
Champion - Western Pleasure Sr. Horse
ResChampion - Hunter Pleasure Sr. Horse
ResChampion - Ladies Western Sidesaddle Open
AHAC 2006 Canadian National Championships
ResChampion - 11 and Up Year Old Stallions
ResChampion - Ladies Western Sidesaddle Open
Top Ten - Training Level Dressage
Top Ten - Hunter Pleasure Sr. Horse
Top Ten - Western Pleasure Sr. Horse
AHAC Elran Cup 2006
International ResChampion Senior Stallion
Champion - 10 and Up Year Old Stallions
AHAC 2006 Region 1 Championships
Regional ResChampion Senior Stallion
Champion - 10 and Up Year Old Stallions
Champion - Hunter Pleasure Sr. Horse
Top Ten - Training Level Dressage
Top Ten [G2] - Western Pleasure Sr. Horse
Top Ten - Western Trail Sr. Horse
Top Ten - Ladies Western Sidesaddle Open
AHAC Towerlands UK 2006
International ResChampion Senior Stallion
Champion - 10 and Up Year Old Stallions
AHAC Mooslargue International 2006
Champion - Training Level Dressage
Champion - Ladies Western Sidesaddle Open
ResChampion - 11 and Up Year Old Stallions
Top Ten - Hunter Pleasure Sr. Horse
Top Ten - Western Pleasure Sr. Horse
Top Ten - Western Trail Sr. Horse
AHAC Qatar 2006
Top Ten - 10 and Up Year Old Stallions
AHAC Merrist Wood 2006
Top Ten - 11 and Up Year Old Stallions
Top Ten - Hunter Pleasure Sr. Horse
Top Ten - Western Pleasure Sr. Horse
Top Ten - Western Trail Sr. Horse
Top Ten - Ladies Western Sidesaddle Open
AHAC 2006 U.S Nationals
ResChampion - 11 and Up Year Old Stallions
Top Ten - Training Level Dressage
Top Ten - Hunter Pleasure Sr. Horse
Top Ten - Western Pleasure Sr. Horse
Top Ten - Western Trail Sr. Horse
Top Ten - Ladies Western Sidesaddle Open
AHAC 2006 All Nations Cup
Top Ten - 10 and Up Year Old Stallions
Top Ten [G2] - Most Classic Stallions
AHAC 2006 Region 2 Championships
ResChampion - Western Trail Sr. Horse
Top Ten - 11 and Up Year Old Stallions
Top Ten - Training Level Dressage
Top Ten - Hunter Pleasure Sr. Horse
AHAC Tulip Cup 2006
ResChampion [G3] - Open Liberty
Top Ten - Ten and Up Year Old Stallions
AHAC 2006 Ströhen International
International ResChampion Senior Stallion
Champion - Eleven and Up Year Old Stallions
Top Ten [Group 3] - Open Liberty
AHAC 2006 Ajman
Top Ten - Ten and Up Year Old Stallions
Top Ten [G3] - Open Liberty
AHAC 2006 Polish National Show
National ResChampion Senior Stallion
Champion - Ten and Up Year Old Stallions
Top Ten - Open Liberty
2006 Adelbert Arabian Showcase
Top Ten - Eleven and Up Year Old Stallions
The Jubilee Showcase 2006
Top Ten - Eleven and Up Year Old Stallions
AHAC 2006 Middle East Championships
Champion - Hunter Pleasure Sr. Horse
Top Ten - Eleven and Up Year Old Stallions
Top Ten - Western Pleasure Sr. Horse
Top Ten - Ladies' Western Sidesaddle
Top Ten - Trail Sr. Horse
Top Ten - Training Level Dressage
Top Ten - Classic Head Stallions
AHAC 2006 European Championships
Top Ten - Eleven and Up Year Old Stallions
Top Ten - Hunter Pleasure Sr. Horse
Top Ten - Ladies' Western Sidesaddle
Top Ten - Trail Sr. Horse
Top Ten - Training Level Dressage
Top Ten [G2] - Classic Head Stallions
Top Ten [G2] - Western Pleasure Sr. Horse
The Baahir Arabian Cup 2006
Top Ten - Eleven and Up Year Old Stallions
AHAC 2006 Israel National Championship
Top Ten - Eleven and Up Year Old Stallions
Top Ten - Hunter Pleasure Sr. Horse
Top Ten - Western Pleasure Sr. Horse
Top Ten - Ladies' Western Sidesaddle
Top Ten - Training Level Dressage
Top Ten [G2] - Classic Head Stallions
AHAC 2006 Egypt International
Top Ten - Eleven and Up Year Old Stallions
Top Ten - Hunter Pleasure Sr. Horse
Top Ten - Trail Sr. Horse
Top Ten - Training Level Dressage
Top Ten [G2] - Western Pleasure Sr. Horse
Top Ten [G3] - Classic Head Stallions
AHAC 2006 Dubai International
Top Ten - Eleven and Up Year Old Stallions
Top Ten [G2] - Classic Head Stallions
AHAC 2006 Salon du Cheval
World Champion Senior Stallion
Champion - Ten and Up Year Old Stallions
Top Ten [G3] - Classic Head Stallions
AHAC Sharjah 2006
ResChampion [Group 2] - Western Pleasure Sr. Horse
Top Ten - Eleven and Up Year Old Stallions
Top Ten - Hunter Pleasure Sr. Horse
Top Ten [G2] - Trail Sr. Horse
Top Ten [G2] - Training Level Dressage
Top Ten [G5] - Classic Head Stallions
AHAC Emerald Trophy 2006
ResChampion [Group 7] - Classic Head Stallions
Top Ten - Eleven and Up Year Old Stallions
Top Ten - Hunter Pleasure Sr. Horse
Top Ten - Western Pleasure Sr. Horse
Top Ten - Ladies' Western Sidesaddle
Top Ten - Training Level Dressage
AHAC Asil Cup 2006
Top Ten - Eleven and Up Year Old Stallions
Top Ten [G6] - Classic Head Stallions
AHAC 2007 Region 1 Championships
Champion [G2] - Trail Sr. Horse
ResChampion - Classic Head Stallions
Top Ten - Eleven and Up Year Old Stallions
Top Ten - Hunter Pleasure Sr. Horse
Top Ten - Training Level Dressage
Top Ten [G2] - Western Pleasure Sr. Horse
Top Ten [G3] - Ladies' Western Sidesaddle
The Haakim Cup 2007
Champion - Eleven and Up Year Old Stallions
AHAC 2007 Region 2 Championships
ResChampion [G2] - Hunter Pleasure Sr. Horse
Top Ten - Eleven and Up Year Old Stallions
Top Ten [G2] - Ladies' Western Sidesaddle
Top Ten [G3] - Trail Sr. Horse
Top Ten [G3] - Training Level Dressage
Top Ten [G3] - Classic Head Stallions
Top Ten [G5] - Western Pleasure Sr. Horse
AHAC 2007 Ajman
Top Ten [G2] - Eleven and Up Year Old Stallions
AHAC 2007 Scottsdale Show
ResChampion - Training Level Dressage
Top Ten - Ladies' Western Sidesaddle
Top Ten [G2] - Trail Sr. Horse
Top Ten [G2] - Western Pleasure Sr. Horse
Top Ten [G3] - Hunter Pleasure Sr. Horse
Top Ten [G3] - Eleven and Up Year Old Stallions
AHAC 2007 Qatar International
Top Ten - Eleven and Up Year Old Stallions
Top Ten - Hunter Pleasure Sr. Horse
Top Ten - Western Pleasure Sr. Horse
Top Ten - Ladies' Western Sidesaddle
Top Ten - Trail Sr. Horse
Top Ten - Training Level Dressage
Top Ten [G6] - Classic Head Stallions
AHAC 2007 Ströhen International
Top Ten - Eleven and Up Stallions
AHAC 2007 Egyptian National Championships
ResChampion - Eleven and Up Year Old Stallions
Top Ten - Hunter Pleasure Sr. Horse
Top Ten [G2] - Training Level Dressage
Top Ten [G3] - Trail Sr. Horse
Top Ten [G4] - Western Pleasure Sr. Horse
Top Ten [G5] - Ladies' Western Sidesaddle
Top Ten [G10] - Classic Head Stallions
AHAC 2007 Sharjah International
Top Ten - Eleven and Up Stallions
Top Ten - Hunter Pleasure Sr. Horse
Top Ten - Western Pleasure Sr. Horse
Top Ten - Trail Sr. Horse
AHAC Abu Dhabi 2007
Top Ten - Eleven and Up Stallions
BT Sitwat Arabian Show 2007
Top Ten - Eleven and Up Stallions
Badi Arabian Event 2007
ResChampion - Eleven and Up Stallions
BT Gharkwan Arabian Spectacular 2007
Top Ten - Eleven and Up Stallions
Top Ten - Training Level Dressage
AHAC 2007 U.S. Nationals
Top Ten - Trail Sr. Horse
AHAC Arabian Breeders World Cup 2007
Champion - Hunter Pleasure Sr. Horse
Top Ten - Eleven and Up Stallions
Top Ten - Ladies' Western Sidesaddle
Top Ten - Trail Sr. Horse
AHAC Wels International 2007
ResChampion - Eleven and Up Stallions
AHAC Tulip Cup 2007
ResChampion - Eleven and Up Stallions
2007 Gawaiz Western Event
Top Ten - Western Pleasure Sr. Horse
Top Ten - Ladies' Western Sidesaddle
Top Ten - Trail Sr. Horse
AHAC 2007 Jordan National Championships
Champion - Western Pleasure Sr. Horse
Top Ten - Hunter Pleasure Sr. Horse
Top Ten - Trail Sr. Horse
AHAC 2007 European Championships
ResChampion - Western Pleasure Sr. Horse
Top Ten - Hunter Pleasure Sr. Horse
Top Ten - Ladies' Western Sidesaddle
2007 AHAC Israeli National Championships
Top Ten - Eleven and Up Stallions
BT Rizwana Arabian Spectacular 2007
Top Ten - Eleven and Up Year Old Stallions
Top Ten - Training Level Dressage
AHAC 2007 Egypt International
Top Ten - Eleven and Up Stallions
Top Ten - Trail Sr. Horse
AHAC 2007 Salon Du Cheval
Top Ten - Eleven and Up Stallions
AHAC 2007 Brazilian National Championships
Top Ten - Training Level Dressage
Top Ten - Hunter Pleasure Sr. Horse
Top Ten - Trail Sr. Horse
AHAC Sharjah 2007
National Champion Senior Stallion
Champion - Eleven and Up Stallions
Top Ten - Ladies' Western Sidesaddle
AHAC 2008 Region 1 Championships
Champion - Western Pleasure Sr. Horse
Top Ten - Eleven and Up Stallions
Top Ten - Hunter Pleasure Sr. Horse
AHAC 2008 Canadian Nationals
ResChampion - Ladies' Western Sidesaddle
AHAC 2008 Region 2 Championships
Champion - Hunter Pleasure Sr. Horse
ResChampion - Most Classic Sr Stallion
Top Ten - Trail Sr. Horse
AHAC Ajman National Show 2008
Top Ten - Hunter Pleasure Sr. Horse
Top Ten - Most Classic Sr Stallion
AHAC Abu Dhabi 2008
Top Ten - Eleven and Up Stallions
AHAC Scottsdale Arabian Horse Show 2008
Top Ten - Hunter Pleasure Sr. Horse
AHAC 2008 Egyptian National Championships
Top Ten - Hunter Pleasure Sr. Horse
AHAC Qatar International 2008
Top Ten - Most Classic Sr Stallion
Top Ten - Western Pleasure Sr. Horse
AHAC 2008 Sharjah International
ResChampion - Western Pleasure Sr. Horse
Top Ten - Hunter Pleasure Sr. Horse
AHAC Arabian Breeders World Cup 2008
Top Ten - Ladies' Western Sidesaddle
AHAC 2008 U.S. Nationals
Top Ten - Hunter Pleasure Sr. Horse
Top Ten - Ladies' Western Sidesaddle
Top Ten - Trail Sr. Horse
AHAC Tuilp Cup 2008
Top Ten - Most Classic Sr Stallion
AHAC Buckeye 2008
Top Ten - Eleven and Up Stallions
AHAC Arabica 2008
Top Ten - Trail Sr. Horse
AHAC Orientalica 2008
Top Ten - Eleven and Up Stallions
AHAC 2008 Jordan National Championships
Top Ten - Hunter Pleasure Sr. Horse
Top Ten - Ladies' Western Sidesaddle
Top Ten - Trail Sr. Horse
AHAC 2008 Menton International
Top Ten - Hunter Pleasure Sr. Horse
AHAC 2008 German Nationals
Top Ten - Hunter Pleasure Sr. Horse
Top Ten - Ladies' Western Sidesaddle
Top Ten - Trail Sr. Horse
AHAC 2008 Menton International
Top Ten - Hunter Pleasure Sr. Horse
AHAC 2008 Czech National Championships
Top Ten - Hunter Pleasure Sr. Horse
Top Ten - Ladies' Western Sidesaddle
AHAC Emerald Trophy 2008
Top Ten - Hunter Pleasure Sr. Horse
Top Ten - Ladies' Western Sidesaddle
Top Ten - Trail Sr. Horse
AHAC Asil Cup 2008
Champion - Most Classic Sr Stallion
AHAC 2008 Scandinavian Open Championships
Top Ten - Most Classic Sr Stallion
Top Ten - Hunter Pleasure Sr. Horse
Top Ten - Western Pleasure Sr. Horse
AHAC Brussels Arabian Trophy 2008
Top Ten - Hunter Pleasure Sr. Horse
Top Ten - Trail Sr. Horse
AHAC Towerlands UK 2008
Champion - Ladies' Western Sidesaddle
Top Ten - Most Classic Sr Stallion
Top Ten - Trail Sr. Horse
AHAC Danish National Championships 2008
ResChampion - Most Classic Sr Stallion
AHAC Vilhelmsborg 2008
Top Ten - Hunter Pleasure Sr. Horse
Top Ten - Trail Sr. Horse
AHAC Moroccan Nationals 2008
Top Ten - Most Classic Sr Stallion
Top Ten - Hunter Pleasure Sr. Horse
Top Ten - Ladies' Western Sidesaddle
Top Ten - Trail Sr. Horse
AHAC Saint Tropez Arabian Cup 2008
Top Ten - Hunter Pleasure Sr. Horse
AHAC Middle East Championships 2008
Top Ten - Eleven and Up Stallions
Top Ten - Hunter Pleasure Sr. Horse
AHAC European Championships Verona 2008
Champion - Hunter Pleasure Sr. Horse
Top Ten - Eleven and Up Stallions
Top Ten - Trail Sr. Horse
AHAC Israeli Nationals 2008
Top Ten - Most Classic Sr Stallion
AHAC Egypt International 2008
Champion - Most Classic Sr Stallion
Champion - Ladies' Western Sidesaddle
Top Ten - Western Pleasure Sr. Horse
AHAC Brazilian Nationals 2008
Top Ten - Eleven and Up Stallions
Top Ten - Trail Sr. Horse
AHAC St. Petersburg Open 2008
Top Ten - Western Pleasure Sr. Horse
AHAC Salon Du Cheval 2008
Top Ten - Most Classic Sr Stallion
AHAC Sharjah 2008
Champion - Eleven and Up Stallions
AHAC Region 1 Championships 2009
Top Ten - Classic Head Sr Stallions
Top Ten - Trail Sr. Horse
AHAC Region 2 Championships 2009
Top Ten - Trail Sr. Horse
AHAC Canadian Nationals 2009
Top Ten - Eleven and Up Stallions
Top Ten - Classic Head Sr Stallions
Top Ten - Most Classic Sr Stallion
Top Ten - Ladies' Western Sidesaddle
Top Ten - Trail Sr. Horse
AHAC Ajman National Show 2009
Top Ten - Classic Head Sr Stallions
Top Ten - Most Classic Sr Stallion
Top Ten - Ladies' Western Sidesaddle
Top Ten - Trail Sr. Horse
AHAC Abu Dhabi 2009
Top Ten - Eleven and Up Stallions
AHAC Scottsdale Arabian Horse Show 2009
Top Ten - Hunter Pleasure Sr. Horse
Top Ten - Ladies' Western Sidesaddle
AHAC Voghera 2009
Top Ten - Eleven and Up Stallions
Top Ten - Classic Head Sr Stallions
Top Ten - Hunter Pleasure Sr. Horse