Vietnam veteran, convoy commander and scale modeler Jerry Barnes shows us step-by-step how he builds his guntruck "Snoopy".
This page will be updated when new photos are coming in.
Enjoy his project and maybe it will inspire you to build a guntruck as well.
The graphics are done by Mike's Advancedsigns.
You can reach Mike for information at his email address: [email protected]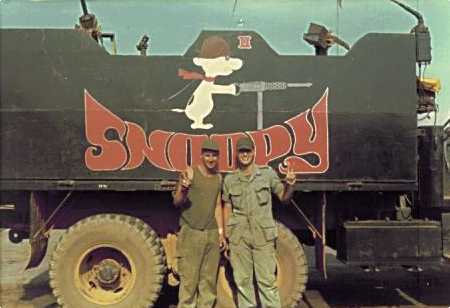 This is a photo of the real Snoopy in Vietnam
The kit to start with is Italeri's M-925 or M-938. Jerry and James Lyles made their own new resin cab. They started with the AFV Club M-35 cab which they lengthened.
When you start such a complex project, scale drawings are almost a necessity.
This is the side view...

and this is the top view of the cargo/weapons area of the guntruck.

These rwaings are the top and side views of an M54 truck. The start of the Snoopy guntruck.

Here is a front and rear drawing of an M-54.
| | | | |
| --- | --- | --- | --- |
| | | | |
| Here you can see some in-progress photos of the armored side panels and wooden floor. | On these and the following snapshots you can.. | see Snoopy and its crew in Vietnam. | They can also be a source for detailing information. |
| | | | |
| | | | |
| --- | --- | --- | --- |
| | | | |
| These are the resin parts needed to convert the M-35 kit into an M54 5ton truck. | These are the major resin parts: the new cab end fenders. | On this photo you can see the complete chassis with the widened front axle. | And this is a detail shot of the widened front axle. |
| | | | |
| --- | --- | --- | --- |
| | | | |
| On this photo you can see the new resin cab on the completed chassis test fitted. | The exhoust stacks were detailed with plastic and metal parts. | The fuel tanks were detailed and tested for alignment with the cab. | The hood handles were made from staples. |
| | | | |
| --- | --- | --- | --- |
| \ | | | |
| On this photo you can see the resin hood and fenders fitted on the chassis. | The kit seats were detailed ... | ...and the fuel tanks too. | The toolbox on the gas tanks on most guntrucks were removed |
| | | | |
| --- | --- | --- | --- |
| | | | |
| Test fit of the armored bed on the truck | The ammo drum for the grenade launcher was made from copper sheet | Here's a photo of the scratch built grenade launcher | 3/4 frontal view of an almost complete M54 guntruck. |
| | | | |
| --- | --- | --- | --- |
| | | | |
| Side view of the kit | Here are the M-113 style seats with added details | Scratch built taillights | Full view of the rear of the truck |
| | | | |
| --- | --- | --- | --- |
| | | | |
| Here you see both sides of Snoopy | The almost finished Snoopy | Here you can see the floor filled with ammo boxes. | Side view with all the graphics in place. |
| | | | |
| --- | --- | --- | --- |
| | | | |
| SNOOPY finished | Here from a different angle | | |