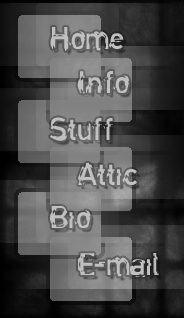 LINKS:
My Individual Deck Sites:
My Other Endeavors:
My Online Works:
Tarot-Related:
The Attic
This is The Attic containing short introductions to my tarot projects. Featured here are the title cards and short write-ups of my decks. Just click on the title of the deck or their respective cards to go to their galleries.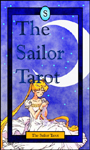 A tarot deck project that is based on and is intended to be an homage to the popular Japanese anime Sailor Moon. Comparing and designating the mythology of the series to that of the ancient divinatory art of the Tarot, the central imagery of the deck was intended to be translated to visual form through the medium of digital collage. Unfortunately, the images of proved to have poor resolutions, so they had to be re-drawn and re-colored via Corel Photopaint, resulting in vivid and arresting colors. It has been featured in the online Tarot Site the Aeclectic Tarot, as one of the unpublished decks in its archives, and has been openly welcomed by the members of online tarot and anime communities alike.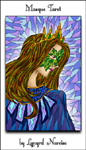 It is also an ongoing tarot project. Inspired by Art Nouveau, the Symbolist movement, Expressionism, masquerades and stained glass, the particular style fashioned distinctively for the deck conveys various tarot themes, from the conceptually cryptic to the blatantly patent, in its swirls, curves, and colors. The images are an adaptation of each of the cards' assumed meanings, but portrayed in a whimsical and at times fantastical fashion – all figures with masks. The deck is also a part of Aeclectic Tarot's online archive, and was featured in the Tarot Lovers Calendar for 2003.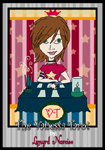 An ongoing tarot deck project that is very much inspired by dolls, the trendy chic appeal of current kikay culture, and ultimately, the image of woman. It is a very female deck, as opposed to be a feminine one, portraying various aspects of a woman – from temptress to wisewoman to independent and non-regimented homemaker – in a fanciful, jovial, and vibrant take on the ancient metaphors of Tarot. It is featured in the archives of Aeclectic Tarot, has received warm literary embrace from Tarot Passages and various members of the online tarot community, and was featured in the Tarot Lovers Calendar for 2004.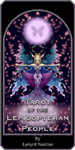 The Tarot of The Lepidopteran People
Also an ongoing tarot deck project, but restricted to just the 22 cards of the Major Arcana, this deck is obviously inspired by butterflies. It portrays the characters of the Tarot's Major Arcana in lithe and anime-ish figures. It is also in Aeclectic Tarot's archives, and is to be featured in the Tarot Lovers Calendar for 2005.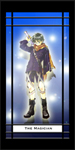 A mixed collection of some other tarot-related/ occult-related images I did. Just for fun.