Aktuelle Termine ... Coming Events
Malteserkeller
Live Jazz and Dance Cellar in Aachen, Germany
ph +49 241 25774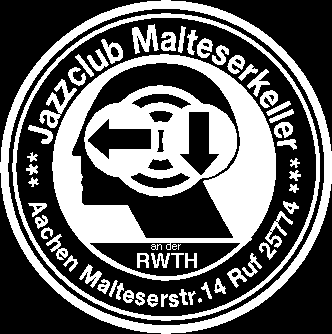 Der Malteserkeller e.V. ist einer der ältesten Jazzclubs in Deutschland. Seit 1957 finden regelmäßig Konzertveranstaltungen mit nationalen und internationalen Musikern statt.
The Malteserkeller (cellar of the Malteser) is one of the oldest Jazz clubs in Germany. It is situated in Aachen and features regular concerts with national and international musicians. An impressive list of jazz greats have played here, it is a very well know known institution in the Rhineland.
Dienstags und Donnerstags:Konzerte, Workshops und Sessions
Tuesday and Thursday: Concerts, Workshops and Sessions
Mittwochs:*Kellerkinder/Kellergeister* mit den DJs Toke, Sone, Lota, Josef
Wednesdays:*Cellar-Children/Cellar-Poltergeists* with DJs Toke, Sone, Lota, Josef
Freitags und Samstags: *Der etwas andere Tanzclub*
Fridays and Saturdays: The alternative Dance-Club
*Acidfunkhipjazz* *Pushyavibes* *Phonkyacidjazz* *Selectedmoderndrive*
Festival: Seit sechs Jahren gibt es im Oktober das Internationale Treffen Innovativer MusikerInnen im Ludwig Forum für Internationale Kunst, veranstaltet vom Malteserkeller. Das Festival gibt einen aktuellen Überblick ber die internationale Avantgard-Szene in den Bereichen Art-Rock und Improvisierte Musik. Größen wie Fred Frith, Elliott Sharp, Zeena Parkins, Anna Homler, Non Credo, The Blech, Rova, Norbert Stein Pata Horns, Sugarconnection, David Moss, Double X Project, Ferdinand et les Philosophes, Zou, Dull Schick sal, Judy Dunaway & the Evan Gallagher Little Band, Tone Dogs, Maix Minions, The Schismatics, The Ex, Zar, E Pericoloso Sporghesi, People In Sorrow, Amy Denio, Love Camp 7, Mark Howell, Fish & Roses, Bene Gesserit, Alain Neffe, Rick Brown, Ornament & Cri me Arkhestra, Han Buhrs, Ankle To Nose, Blech, Bass & Bellaphonie, Art De Fact, Serious Solid Swineheart Is Better Than Homecooked, Secret Service Project, Nick Didkovsky!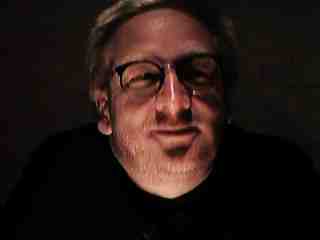 Reinhold is one of the friendly ghost managers of the Malteserkeller. If you have any suggestions email him! (or at a friends place... use "for Reinhold" in the subject!).
---
Concert Dates, Coming Events .... Aktuelle Termine
15.4.1998 Günther Beckers & Stefan Palm (Gitarre und Cemabalo)
Saitenklang und Kinderspiele
16.4.1998 DUO MAGICO Viola Kramer & Harald
Ingenhag (Tasteninstrumente und Percussion)
magische Klangcollagen
22.4.1998 TRAVAIL SONIQUE (Gitta Schäfer - Sax, Urban Elsässer -
Gitarre, Markus Proske - Bass, Yannig Le Roux - Drums) CD-Präsentation
Art De Fact Gründungsmitglieder mit neuem Project
23.4. 1998 Winck-Büning - Schönefeld Trio
saxophongeprägter modern Jazz
30.4.1998 Jazz Jam Session
7.5. 1998 POWWOW funkiger Latin-Jazz
13.5.1998 Thomas Nordhausen Trio Jazz zwischen mellow und funk
14.5.1998 Sprinkhuizen, Fennis & Didderen holländischer Gitarrenjazzrock
21.5.1998 Ulla Oster & Wollie Kaiser we can do it on stage any time
das verrückteste duo der kölner jazzhausszene
26.5.1998 Jazz Jam Session
27.5.1998 BEYOND THE LIMIT jazzy, funky, groovy, soul und dicke
bläsersätze
11.6.1998 STRING THING akustischer Streichquartetjazz mit großer
Soundvielfalt
Sommerjazz im Rahmen des Kultursommers der Stadt Aachen:
18.6.1998 Norbert Stein PATA TRIO feat. Han Buhrs rhytmisch, modernes,
melodiöses aus köln trifft den amsterdamer stimmakrobat Han Buhrs
23.6.1998 Jazz Jam Session
24.6.1998 Valk/Ingenhag/Nordhausen Trio nach längerem new york
aufenthalt stellt der saxophonist claudius falk sein neues trio vor
30.6.1998 Jazz Jam Session
10.9.1998 FRANCK BAND die franck band kommt und das immer öfter
16.9.1998 ART DE FACT Urban Elsässer und seine mitstreiter treiben
weiter in den soundscape der grossstände und integrieren aufs
ungewöhnlichste die texte des new yorker dichters ray federman
30.9.1998 Frank Gratkowsky Trio feat.Gerry Hemmingway und Dieter
Manderscheid Powerjazz der besonderen Art

---
Old events: (The Archive)
40 Jahre Malteserkeller
21.10. 1997 Peter Sonntag Acoustic Trio
22.10. 1997 Drei vom Rhein
here the photos from that evening: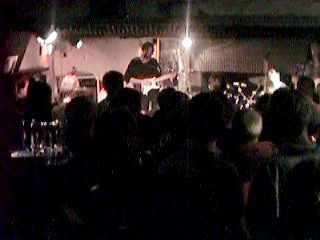 "Drei vom Rhein" (The three from the Rhine) on stage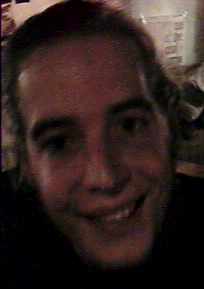 the barkeeper these days
23.10. Du-O-Sonic & Friends
24.10. 40 Years Party, Live Act: Slo Blo
25.10. Somebody Wrong Blues Band
28.10. ITIM Special, explorimenting Music feat. Han Buhrs, Viola Kramer, Norbert Stein, Lukas Simonis, Reinhold Knieps
29.10. Undercarl
Ab Mittwoch den 5. 2.1997 findet jeden Mittwoch die Kellerkinder Session bzw. Kellergeister Sessions in 14 tägigen Wechsel statt. Die Kellerkinder sind DJ Toke and DJ Sone und die Kellergeister sind DJ Lota and DJ Josef, tuned by Tam Tam.
Neu ist ebenfalls jeden letzten Freitag ( 21 3./ 25. 4/30.5 ) im Monat "An evening with JAZZBOP" mit Necati an den turntables.
Der WORKSHOP jeden ersten Dienstag im Monat wurde wiederbelebt. Start: 4.2. mit People in Sorrow feat. DJ Josef (Ambient salubrious sonics ohne Netz und Boden)
Das Programm 1997:
Februar: 4.2. PEOPLE IN SORROW feat. DJ Josef -11.2. Essential Groove Party 13.2. Mamas Delicous Cake - 25.2. Bernd Kistemann Trio alias SCAPPATELLA (Jazz - insbesondere Fusion-Songs von Richie Beirach bis Joe Zawinul. Besetzung: Luca di Rubba - Keyboards, Bernd Kistemacher - Bass, Yann Boms - Drums) - 27.2. PHIZZOG (folkiger Jazzrock)
März: 4.3. WORKSHOP (tba) - 11.3. Essential Groove Party - 13.3. NO CHOIZE (Aachens neue Hoffnung in Sachen Jazz Funk und Rock) - 20.3. THURSDAY NIGHT JAZZ
April: 3.4. JOAN HETU `s CASTOR ET COMPAGNIE ( Das kanadische Quartet um die Saxophonistin Joane Hetu , bekannt durch ihre Mitwirkung bei JUSTINE, spielt Avantgarde-Rock im Stile von Fred Frith und John Zorn. Mit von der Partie sind Diane Labrosse, Keyboards, Accordion, Jean Derome - Saxophone und Pierre Tanguay - Percussion) 8.4. Workshop (tba) -15.4. Essential Groove Party 17.4. THURSDAY NIGHT JAZZ
VORSCHAU: DIE FRANCK BAND KOMMT
---

As you can see... these pages are notregularly maintained. If you want to have this sad fact changed, then please phone and complain.
Here are two recent photos: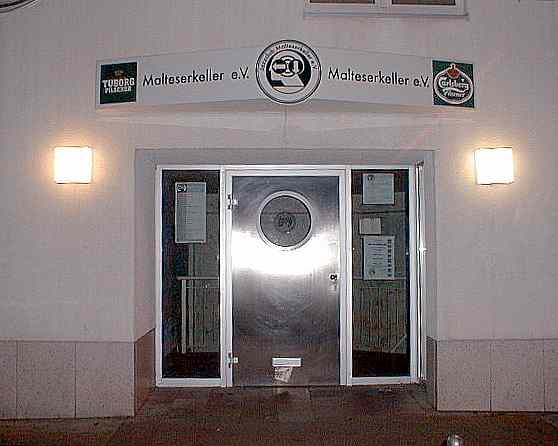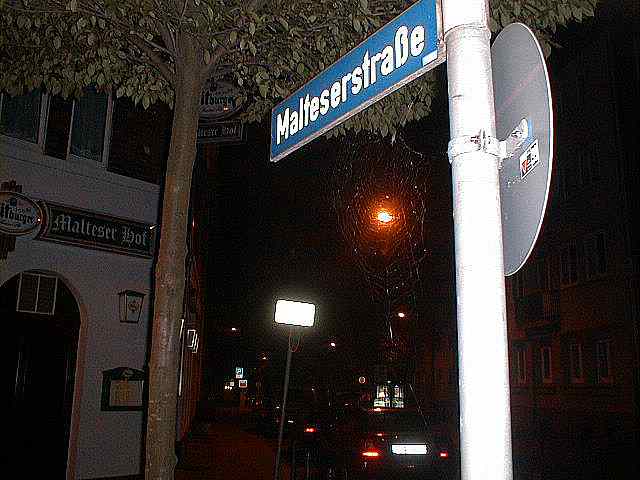 ---
Other pages here on this server