Yathzeeeee
Yathzeeeee is a windows desktop application written in Delphi (Pascal Language).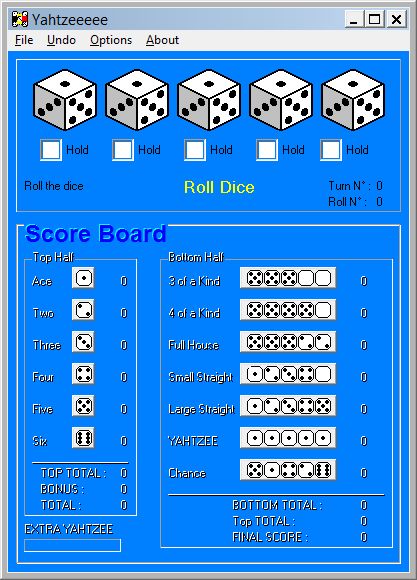 License:
It is freeware License. It is free yes but you use this software at your OWN risk.
Please read the license included inside zip file before using the software.
The license is included into the Readme.txt file.
What is Yathzee?
It is a 5 dice game similar to poker but it is not poker... I will not explain the rule thought, just google 'yathzee rule' if you want. The Score board is self explanatory.
High Score will be recorded if the software is on writable media if not it will attempt to print the high score (the last is a not bug, but code I forgot to remove).
I wrote this software because I was bored and as an exercise to keep my skill up.


Little help not explained anywhere:

When the mouse hover 'Roll Dice' it became a button to click to roll the dice.
You can stop the dice by clicking the same button again (this time called 'Stop Dice') or by a click on a rolling dice.
When I designed this software and for control purpose I created a cheat box... but I am not goin to tell you how to activate it even it's easy and logic. Easter egg, la la la la.

Operating System Requirement:
The software was written in 2001 so it is old and can run from Windows 98 to Windows 10.
However you will have to resize a bit the window at launch. Nothing else special come to my mind.


Installation:
There is no installer provided, it is a portable application.
The download is a zip file and all you need to do is to unzip the contents of it into the folder of your choice.


The files into this archive are:
highscore.txt, this is where the high score are recorded

Lisez-moi.txt, explain to the French people how to localize the software to the French language...

Readme.txt, contains the license, installation note, known bugs and the like. PLEASE, READ THIS FILE PRIOR TO EXECUTION OF THE SOFTWARE.

Yathzee.exe, the software itself.


Download link:
IMPORTANT : EVEN I AM SURE THE FILES I UPLOADED DID NOT CONTAIN ANY VIRUS OR MALICIOUS CODE AT TIME OF UPLOAD, YOU SHOULD SCAN THE DOWNLOAD WITH YOUR FAVOURITE UPDATED ANTIVIRUS BEFORE UNZIPING THE FILE.
Download this version for 32bits OS (See Operating System Requirement): Yatzeeeee.zip



All rights reserved. Copyright ©2015 Benoit Standaert