Ohm Law Calculator
Ohm Law Calculator is a windows desktop application written in Delphi (Pascal Language).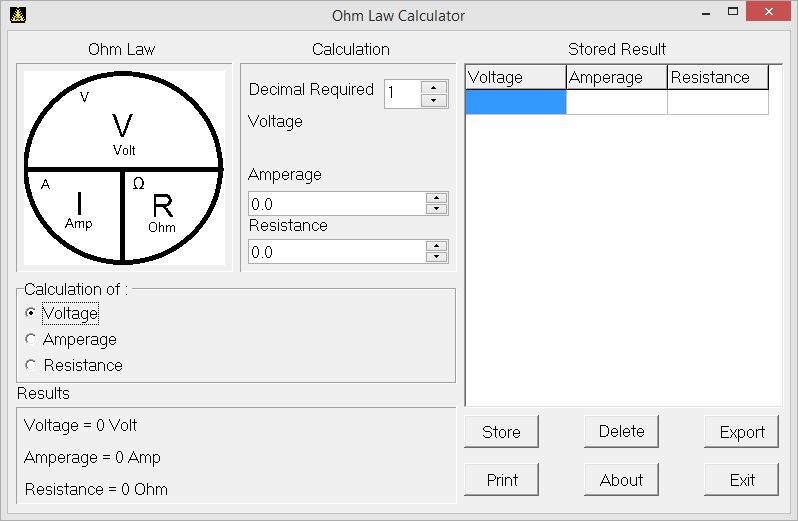 License:
It is published under BSD3 License. It is free yes but you use this software at your OWN risk.
Please read the license BEFORE you download it.

Here is a text copy of the license you can also find into the archive as a text file called BSD3 License.txt: License.
What can do the software?
Calculate Voltage, Amperage and Resistance and store, Print and export as a CSV file your result.
That's it. Ideal for student or people who want to create some sort of database of result, or a teacher... you name it
Operating System Requirement:
Windows system only and from all version of Windows XP to Windows 10 included.
The software has been tested under Windows 7 Home, Windows 8.1 64Bits version only. If you test this software under an other version of windows, please let me know if it works. Thank you.

Windows is a registration trademark of Microsoft.

There is a 32 bits version available for download.
Installation:
There is no installer provided, it is a portable application.
The download is a zip file and all you need to do is to unzip the contents of it into the folder of your choice.
The files into this archive are:
OhmLawCalculator.exe which is the software itself to produce Ohm calculation.

BSD3 License.txt which is the License you must agree before you use the software.

Download link:
IMPORTANT : EVEN I AM SURE THE FILES I UPLOADED DID NOT CONTAIN ANY VIRUS OR MALICIOUS CODE AT TIME OF UPLOAD, YOU SHOULD SCAN THE DOWNLOAD WITH YOUR FAVOURITE UPDATED ANTIVIRUS BEFORE UNZIPING THE FILE.
Download this version for 32bits OS (See Operating System Requirement): OhmLawCalculator.zip
All rights reserved. Copyright ©2015 Benoit Standaert