PINGGUIN V1.0.0.0
PINGGUIN is a window portable application written in Delphi (Pascal language)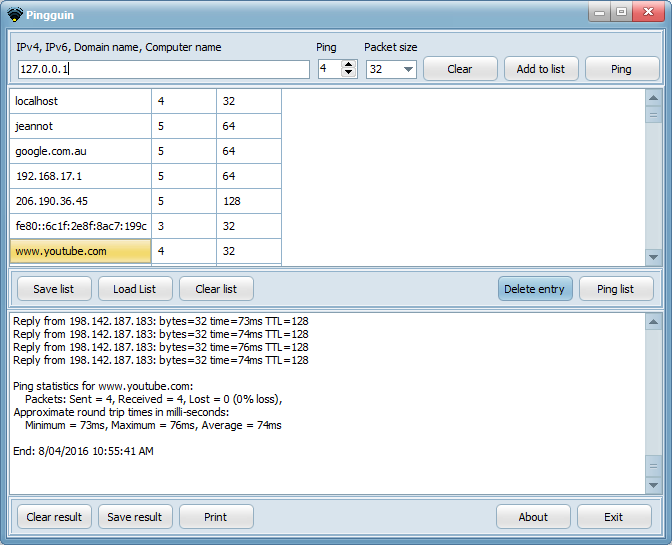 Pingguin in action

License:
The program is freeware. It's free, yes, but it does not mean it does not have a license.
Before using the software you will need to agree with the license.
The license is include into the download archive of the software.
A copy can be found here too: Pingguin license.

What is Pingguin?
Pingguin is a troubleshooting network tool, it permits to ping one or multiple computer or device responding to ping and analyse the result.
Its goal is to provide a friendlier PING command than the console application offered by the operating system (OS). Mainly, a graphic user interface (GUI). It does not replace the PING console application of the OS but add some functionality it lacks. Such as saving the result to disk, printing the result, automatic PING with various parameter of a list of computer or host (e.g. Server, any devices accepting a ping request, PC in workgroup and domain).
In fact PINGGUIN is more than a simple software. Of course it does what you expect of the ping console application but more too. If your everyday is maintaining network, no doubt you wished you could just load a list of host to ping with various parameter as they are all the time the same or with little variation. Sometime, you'd wish you could also read a simple report in a more friendly way of dozen of pinged host. Wouldn't be a time saver if only the console application could do that? If this is you, PINGGUIN will help you lots. It just does that with perfection. At home your internet television, various PC, the game console, the home networks goes rogue… well ping them all and check what is going on. Did I mention it is faster than the equivalent console application offered by the OS? Indeed it is.
From pinging local network address to distant server for troubleshooting a network, to know the IP address of a domain or other reason of yours, PINGGUIN is there to help. The result is a text file you can manipulate the way you like. As it is a portable software and does not need administrative right to run in single or multiple instance, PINGGUIN could be a great addition to any network tool collection. Best of all it is free to use even in commercial environment. Read the license for more details.
Operating System Requirement:
Windows system only and from all version of windows vista to windows 10. The software has been tested under Windows 7 Home, Windows 8.1 64Bits version only. The software should work under Windows XP but I can certify it. If you test this software under another version of windows, please let me know if it works. Thank you.
Windows is a registration trademark of Microsoft.
There is a 32 bits version and 64 bits version available for download.
Other Requirement:
An Internet connection for full potential.
Installation:
There is no installer provided, it is a portable application.
The download is a zip file and all you need to do is to unzip the contents of it into the folder of your choice.


The files into this archive are:
Pingguin.exe which is the software itself

PINGGUIN License.txt which is the license of the software to be read BEFORE using the software
Download link:
IMPORTANT : EVEN I AM SURE THE FILES I UPLOADED DID NOT CONTAIN ANY VIRUS OR MALICIOUS CODE AT TIME OF UPLOAD, YOU SHOULD SCAN THE DOWNLOAD WITH YOUR FAVOURITE UPDATED ANTIVIRUS BEFORE UNZIPING THE FILE.
Download this version for 32bits OS (See Operating System Requirement): Pingguin_32Bits.zip
Download this version for 64bits OS (See Operating System Requirement): Pingguin_64Bits.zip
A manual is also available for download in a PDF format here: PINGGUIN MANUAL.pdf
Copyright Benoit Standaert, 2016 all rights reserved.