Alarm V1.0

Alarm V1.0 is a windows desktop application written in Delphi (Pascal Language), long time ago.
This software is NO longer maintained.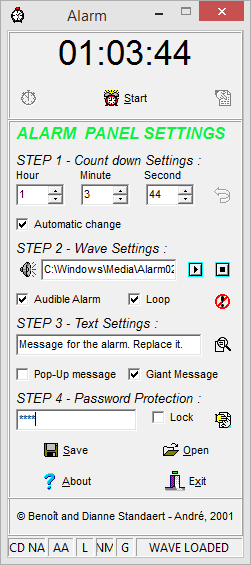 License:
It is published under freeware License. It is free yes but you use this software at your OWN risk.
Please read the Disclaimer license included into the archive.

What the Software does?

Alarm is countdown software. Really easy to use. I did it when working in Europe (UK, Belgium and France (Bugger, I love France so much)) to wake me up or to know when I had to turn of the kettle, record a movie, leave home for a rendez-vous… while working on the PC. Lockable by password, it was also useful for us when it came to share the PC with kids.
Alarm can be audible with the sound (.wav) of your choice or none, a giant multi-line banner showing at the top of the screen and/or just a pop-up message, Lockable by password all alarm can be combined.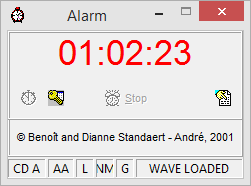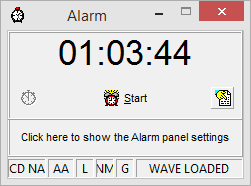 Operating System Requirement:
Pentium 100 MHz, 32Mb Ram and a bit of space to copy the software onto the HD (600Kb).

Compatible Win98, ME, NT, 2000, XP, Vista, Win 7, Win 8 and Win 10.

A sound card is recommended
Installation:
There is no installer provided, it is a portable application.
The download is a zip file and all you need to do is to unzip the contents of it into the folder of your choice.
The files into this archive are:
Alarm.exe which is the software itself.

Alarm.Doc which is the license you are required to read BEFORE using the software.

Download link:
IMPORTANT : EVEN I AM SURE THE FILES I UPLOADED DID NOT CONTAIN ANY VIRUS OR MALICIOUS CODE AT TIME OF UPLOAD, YOU SHOULD SCAN THE DOWNLOAD WITH YOUR FAVOURITE UPDATED ANTIVIRUS BEFORE UNZIPING THE FILE.
Download Alarm V1.0 (See Operating System Requirement): Alarm.zip
All rights reserved. Copyright ©2015 Benoit Standaert