---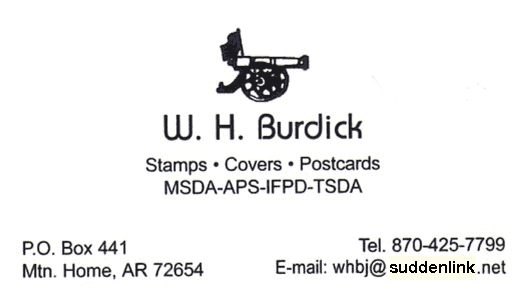 Burdick Emporium (Info Pg.*)


William H. "Bill" Burdick APS-14*, MSDA-14(IL), TxSDA-14
PO Box 441, Mountain Home, AR 72654
Tel.: 870 425-7799, Fax: 870-425-4116
[email protected]

*,

[email protected]

,

[email protected]

Full Time via Mail, Show Bourses. Offeres: to Buy Stamps, Want Lists Service, Supplies/Albums
*Specialties: U.S., Worldwide, Covers, First Day Covers, Picture Postcards
---
Burchett Enterprises, Inc.


Mr. Lewis Burchett APS-14*, ASDA-14**, NSDA-06
P.O. Box 7207, Sherwood, AR 72124
Phone: (501) 835-6797
lewisburchett.com: forwards to: stores.ebay.com/Burchett-Enterprises
www.ebay.com/usr/honestyplus (same basic url; over 2K items c.20150115)
http://shop.vendio.com/Postmaster (an eBay front c.201501)
**Specialties: US, Plateblocks, First Day Covers, Postal History, Sheets.
**Auctioneer of rare stamps & postal history, Early U.S. 20th Century.
* Full Time via Internet, Mail. Offeres: Approvals, Buys Stamps, Want Lists Service
*Specialties: U.S. Classics, First Day Covers, Plate Blocks & Singles, Air Mails
*APS Dealer Since 1991


old: members.ebay.com/aboutme/honestyplus (forwards c.2015)
P. O. Box 250230, Little Rock, AR 72225
Tel.: 501 223 8545, Fax: 501 227 6277
---
C & H Classic Philatelic


Charles Homolka MSDA-14(IL)
PO Box 394, Fort Smith, AR 72902-0394
Tel.: 479-782-7864
[email protected]
Specialties: United States Stamps, Worldwide Stamps, Classic Foreign
old: Tel.: 479-650-9311, [email protected]prodigy.net (cf.)
---


Ray L. TxSDA-12, APS-06, NSDA-06, MSDA-08(IL), FSDA-07 (Moved back to Texas c.2014)
& Lynda APS-06, NSDA-06 Coughlin

1269A Homestead Loop, Springdale, AR 72764
Tel.: 870-905-4520
Emails:

[email protected]

,

[email protected]

(Ray)

"NSDA LIFE MEMBERS",
Ray: NSDA webmaster & Regional Liaison: Central states group & Arkansas c.2005"
Shows, Bourses, Mail & Internet Sales. Callers by appointment only; mostly attend fairs.: "Specializing in Stamps and Postal History of the US Possessions, including all eras of Canal Zone, Cuba, Guam, Hawaii, Philippines, Puerto Rico and Ryukyu Isands. Look for Ray at shows." Dealing since 1970.
Personal reference by Danilo Signo (Philatelist), Philippines

old:
c.2008: 405 Greenhill Ct, Mountain Home, AR 72653-4205
c.2006-2008: 12220 Langley Hill Drive, Keller, TX 76248-1544 : Tel./Fax: 817-431-4287
c.2004: 71 Arnold St., Mountain Home, AR 72563 : Tel./Fax: 870-491-5085
c.1999: 639 Sycamore Springs Circle, Mountain Home, AR 72653
c.1995: P. O. Box 762, Washogal, WA 98671 : Tel./Fax: 206-835-7990
http://www.teleport.com/~coughlin/ '404' c.2008
---
Vest Pocket Philatelics


William F. (Bill) Di Salvatore NSDA-14, APS-14*, SDAG-05
58 Raccoon Cr., Cherokee Village, AR 72529
Tel.: (870) 287-2809
E-Mail: none

* c.2006 APS: Specialties: Worldwide Covers, Stampless Covers, Post 1800
*Specialties: Air Mail Covers, Censored Covers, First Day Covers, Stampless Covers
Part Time at Show Bourses. Offers: Want Lists Service
---