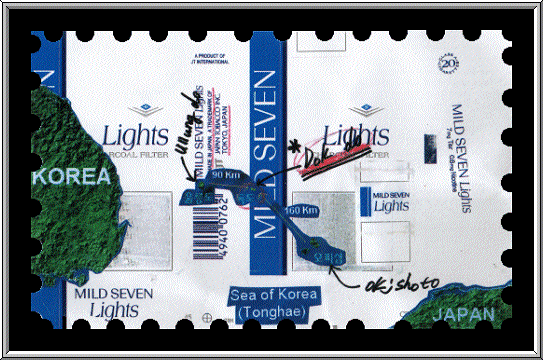 FATHERLAND - TRUE OF DOK DO
Dok du is the most eastern point of Korea.
It is located 90km southeast of Ullung do.
It is the apparent fact.
Though several Korea ancient writings contain mentions of the fact, Japan often persists stubbornly "Dok do is an island of Japan, named Take-shima."
Japan use their economic power as an exercise for pushing on their obstinacy.
I want to let cosmopolitan know this serious situation.
by Cha Seung-yong
Korea, 2002
---
Single artistamp image 10.1 x 16.4cm.

From a full sheet (21 x 29.7cm.) of one stamp image.
Signed, dated.

Permanent Collection
Gift of the artist
---

Continue . . .


Prior . . .


Catalogue . . .

Museum Entrance . . .


JCM Site Map . . .

---
Copyright ©2002 Jas W Felter, all rights reserved.