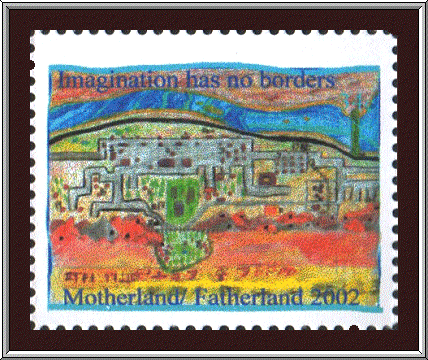 IMAGINATION HAS NO BORDERS
I don't believe in a Motherland/Fatherland in the traditional sense. I respect that we all come from a unique culture and have our own socities, but the land itself belongs to everyone and although the earth has many different land types, it is one land, one mother, one father, one world full of life to which we all belong and a land in which our imagination can create whatever reality we choose.
by Mia Spiral & Christoph J. Lopez
United States of America, 2002
---
Single artistamp 3.1 x 3.8cm.

From a full sheet (21.5 x 27.9cm.) of thirty stamps.
Perforated.

Permanent Collection
Gift of the artist
---

Continue . . .


Prior . . .


Catalogue . . .

Museum Entrance . . .


JCM Site Map . . .

---
Copyright ©2002 Jas W Felter, all rights reserved.