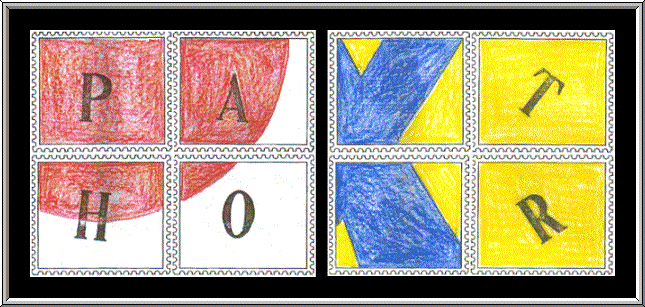 MOTHERLAND/FATHERLAND
I was born in 1960 in Far East Asia, Japan. We call Japan "Nihon". The word of "Ni" means the Sun. The word of "Hon" means center. So, the Japanese national flag is the Red Sun. We are living in Far East Asia but our old mothers and fathers believed that they were living at the center of the world. Japan is an island, so, we are very familiar with the sea. I like both the Sea and Mountain. Japan has both of them. I like Japanese nature.
by Keiichi Nakamura
Japan, 2002
---
Two blocks of four artistamp images, 3.2 x 3.8cm. each stamp image.

From two full sheets (29.7 x 21cm.) of 40 stamp images each sheet.
Sheet one has 19 different images, sheet two has 40 different images.
Perforated, signed.

Permanent Collection
Gift of the artist
---

Continue . . .


Prior . . .


Catalogue . . .

Museum Entrance . . .


JCM Site Map . . .

---
Copyright ©2002 Jas W Felter, all rights reserved.