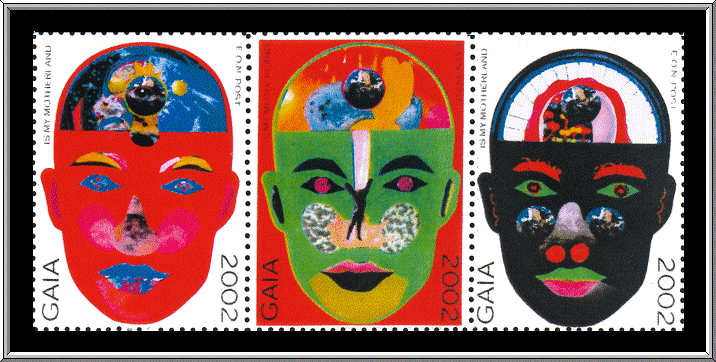 PLANET GAIA IS MY MOTHERLAND
I have only one true Motherland, the planet where I was born, beautiful and gay, strong and caring: GAIA, Mother of Titans and Mother of Dwarves, Goddess of all. I have many brothers and sisters that speak in many languages, near and far, old and young, I love them all. Now Mother is sick, her body hot and poisoned, her forces waning. Let's not forget how glorious she was, how pure her skin, how sweet her smile. To survive she needs the help of us all.
by Vittore Baroni
Italy, 2002
---
Three of four artistamps, 5.6 x 4.2cm. each.

From a full sheet (29.7 x 21cm.) of sixteen.
Perforated, signed, 3/10, dated.

Permanent Collection
Gift of the artist
---

Continue . . .


Prior . . .


Catalogue . . .

Museum Entrance . . .


JCM Site Map . . .

---
Copyright ©2002 Jas W Felter, all rights reserved.