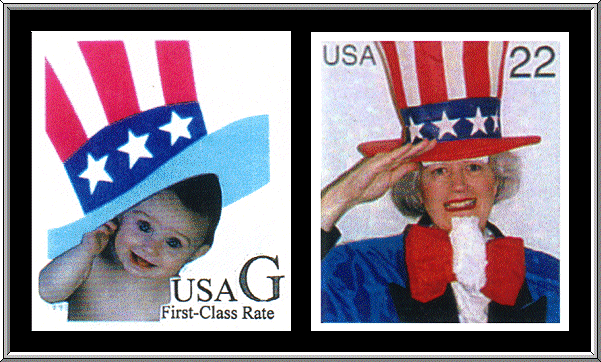 MOTHERLAND/FATHERLAND #1, #2
#1 - Or GRANDMOTHER LAND - this American grandmother believes that yes, we are all (or should consider ourselves all) members of Children's Protective Services, not a governmental bureaucratic agency - that the child(ren), shown here peeking out from under the Uncle Sam's hat, ask to be out from underneath governmental institutionalized health and welfare. We are all responsible for the care of children whether we are related biologically or not.

(Uncle Sam is a tall, thin character dressed in stars and stripes who symbolizes the United States. The original stamp is Uncle Sam's hat and a letter "H". Here the letter "G" has been used because the kid's name is GRACIE.)

#2 - Another take off on the Uncle Sam parody... I am extremely grateful that in the United States we can:

poke fun of
have a sense of humor about
tolerate and encourage ridicule
foster creativity
laugh at ourselves
and keep things in perspective

A visual joke like this would not be possible in many countries of the world and I don't want to ever forget that my homeland is that tolerant.
by J. Alyce
aka Empress of Ladd-Reingold
United States of America, 2002
---
Two artistamps 3.8 x 3.2 & 2.9 x 2.4cm each.

From two full sheets (28 x 21.6cm. each) of each stamp.
Imperforate on self adhesive paper.

Permanent Collection
Gift of the artist
---

Continue . . .


Prior . . .


Catalogue . . .

Museum Entrance . . .


JCM Site Map . . .

---
Copyright ©2002 Jas W Felter, all rights reserved.