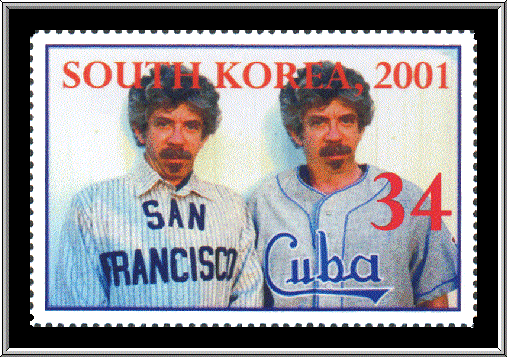 MOTHERLAND/FATHERLAND
(SOUTH KOREA, SAN FRANCISCO, CUBA)
This stamp sheet reflects my feelings on patriotic thoughts of Motherland/Fatherland. It represents the art uniformed in shirts from baseball teams in San Francisco and Cuba. Birth is an accident, don't you think? Or maybe there IS a Universal Gatekeeper, who right before birth decides which team you play for. this one to the United States. That one to Russia. This one to South Korea. And then you root, root, root, for the Home Team.

It just sounds too much like predistination to me, and I refuse to be ruled by it. We can make some choices of our own. For me, the Home Team is all of humanity. Seperate groups are obvious, but misleading. We have more in common with one another, than differences. When we start cheering for each other, we'll all know we are on the right evolutionary track.
by John Held, Jr.
and P.K. Harris
aka Princess Petal
United States of America, 2002
---
Single artistamp 4.2 x 6.4cm.

From a full sheet (27.9 x 21.70cm.) of eighteen stamps.
Perforated, signed by both artists, dated.

Permanent Collection
Gift of the artists
---

Continue . . .


Prior . . .


Catalogue . . .

Museum Entrance . . .


JCM Site Map . . .

---
Copyright ©2002 Jas W Felter, all rights reserved.