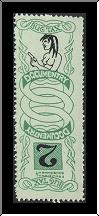 PROVISIONAL ISSUE
Perforated, gummed
Bug Tax stamp: 6.4 x 2.3cm.

The first stamp printed by the provisional government.
The issue was created mainly to generate revenue on exported goods, in particular
The Standard Catalog, as becomes obvious in that nearly half the stamps were
overprinted in red 'THE STANDARD EXPORT TAX" as part of the original printing.
Permanent Collection
Gift of the Artist
---
Copyright © 2002 Jas W Felter, all rights reserved.