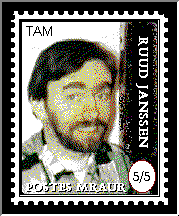 by Jas, 1996
Single Cyberstamp: 179 x 216 x 16

The 'photo' of Ruud Janssen used in this cyberstamp
was taken at the end of 1995 with a digital camera in Utrecht.
The 'photo-file' was saved on diskette and transported by Ruud to Tilburg.

In May of 1996 Ruud attached the file
to an e-mail message sent to the artist in West Vancouver.
There the artist created this cyberstamp to commemorate
the addition of the TAM - Ruud Janssen Mail-Interviews to the JCM Library.
Permanent Collection
Gift of FIVE/CINQ Unlimited
---
Copyright © 1995 Jas W Felter, all rights reserved.