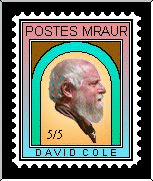 by Jas, 2000
Single artistamp, 3.4 x 2.5cm.
from a full sheet of 40, 8.5 x 11in.

This is the tenth in the
Postes Mraur Commemorative Series of Artistamp Creators
honoring those artists who have visited the
Mraurovian Embassy in the mountainous rain forest of British Columbia,
or who have received the Mraurovian Emissary in their presence
and who's portrait was obtained by Mraur's official photographer, Jas.
Permanent Collection
Gift of the Artist
---
Copyright © 2000 Jas W Felter, all rights reserved.