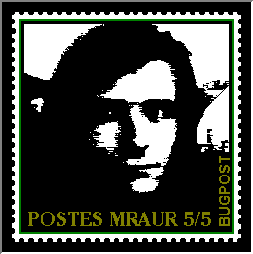 BUGPOST COMMEMORATIVE
by Jas, 1995
This Cyberstamp depicts an image of the Seattle artist Dominique, aka Bugpost:
the Bugmaster General of the PMTTD Corporation
and editor of The Standard Artist Stamp Catalogue.

The issue is part of Postes Mraur's ongoing series
commemorating great artists working in the artistamp format.
Permanent Collection
Gift of FIVE/CINQ Unlimited
---
Copyright © 1995 Jas W Felter, all rights reserved.