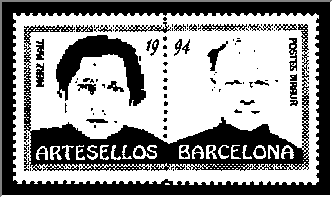 ARTESELLOS BARCELONA
Double black on cream ungummed, perforated artistamp: 4 x 7cm.
Issued in a full sheet (21 x 29.8cm) of 15 in 5 rows of 3.
Canon laser print, signed edition of 85.

This double artistamp was issued jointly by
Postes Mraur and Merz Mail (url c.2009) in Barcelona to
commemorate the friendship of these two artists and
their collaboration in the organization and presentation of the exhibition
Artesellos in Barcelona.

Pere Sousa is currently the most active Mail Artist in Spain.
Jas had the pleasure of working with him on several projects
in Barcelona from January - June, 1993.
Permanent Collection
Gift of FIVE/CINQ Unlimited
---
Copyright © 1995 Jas W Felter, all rights reserved.