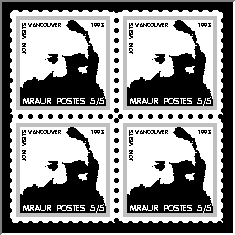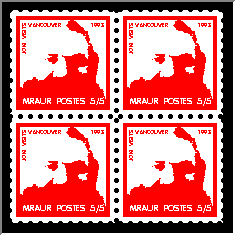 JOKI VISITS VANCOUVER
by Jas, 1994
Single black on white ungummed perforated artistamp 3.8 x 3.8cm.
Issued in a full sheet ( 21 x 27.4cm.) of 5 in 4 rows of 6 in Barcelona.
Canon laser print, signed limited edition.
Produced with the assistance of Merz Mail.

Reissued by Joki in Germany in 1994
in an unsigned unlimited edition of red on white paper, perforated.

The German artist Joseph Klaffki, aka Joki, is a international figure in Mail Art
who began making artistamps in 1984. He has produce several netzines
including S'MAIL-mag, the global-NETWORK-zine'.

This Postes Mraur Issue commemorates Joki's visit to Vancouver in 1993
and his meetings with the numerous Artistamp creators in the area.
Permanent Collection
Gift of the Artist
---
Copyright © 1995 Jas W Felter, all rights reserved.