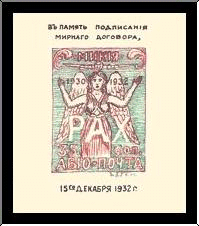 PAX
by Michael V. Hitrovo, 1937c
Peace Treaty Commemorative Sheet, 5.8 x 5cm.

This artistamp commemorates the signing of the Peace Treaty, December 15th, 1932.
Michael V. Hitrovo (1902-1984) created many artistamps
for his fantasy Kingdom of Mikia which was originally located
on the family estates near Kiev, Russia in 1917.

Mikia was historically placed in the future and many of the stamps
commemorated imaginary events in the early to mid 1930's.
All the original stamps were lost during World War I.
After relocating in the U.S.A., Hitrovo begain creating his Mikia stamps again
in 1937, making approximately 800 different ones.
This body of work is now in a private collection.
JCM has obtained reproduction rights to part of the collection.
Private Collection
---
Copyright © 2000 Jas W Felter, all rights reserved.