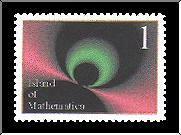 RARE PHENOMENON
by Kenneth S. Karsten
aka Historian and Keeper of The Faith, 1999
Single artistamp image, 2.8 x 4cm.
from a Commerative Sheet (8.5 x 11in.) of 9 stamps
in different colour combinations and denominations,
ungummed with simulated perforations.

One of many unusual phenomena observed by
the Citizens of the Island of Mathematica
and recently described to the artist.
Permanent Collection
Gift of the Artist
---
Copyright © 2002 Jas W Felter, all rights reserved.