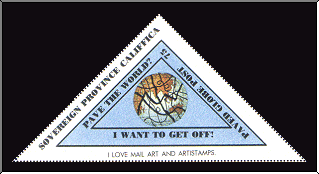 PAVED GLOBE POST
by Marilyn J. Califf, 1997
Single multicoloured ungummed perforated artistamp 7.5 x 15cm.
Issued as a block of four in an unlimited edition on an 11 x 8.5" sheet;
Signed, and dated.

Marilyn creates paintings, drawings, 3-D prints, photographs,
quilt designs, collages and mixed media works
in her studio in Memphis, Tenn.
Permanent Collection
Gift of the Artist
---
Copyright © 1997 Jas W Felter, all rights reserved.