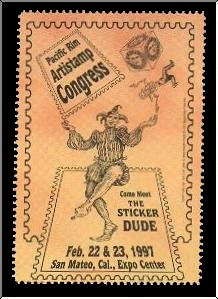 PACIFIC RIM ARTISTAMP CONGRESS
by Joel S. Cohen, 1997
Single ungummed, perforated artistamp;
black on variated colour paper, 7 x 4.8cm
(From a full sheet of 4; 14 x 21.8cm.)

Joel S. Cohen, aka Sticker Dude, issued this
artistamp to commemorate his appearance at
the 1997 Pacific Rim Artistamp Congress held in
San Matao, California on February 22nd and 23rd.
Permanent Collection
Gift of the Artist
---
Copyright © 1997 Jas W Felter, all rights reserved.