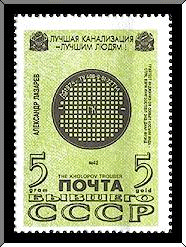 EX-USSR POSTAGE
by Alexander Kholopov & Natalie Lamanova, 1996
Single artistamp: 6 x 4.3cm.
From the set of 80 artistamps
The Best Sewerage for the Best People
(80 Moscow Sewer Hatches) begun in 1983 - 1996.

Alexander Kholopov, aka Kholopov Trouser and
Natalie Lamanova, aka Lamana Wooma
are both graduates of Stroganova's Industrial Art Institute in Moscow and
have lived and worked together in Moscow since 1984.

Permanent Collection
Gift of the artist
---
Copyright © 1996 Jas W Felter, all rights reserved.