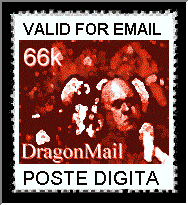 POSTE DIGITA
by Sean A. Woodward, 1996
Single Cyberstamp 188 x 250 x 256.

Sean A Woodward, aka Ambassador Dragonheart is Executive Editor of Dragonheart Press.
He was recently appointed to the High Office of
Mraurovian Spiritual & Diplomatic Ambassador to the British Isles.
Sean is an artist and poet living in Derby, England.
Permanent Collection
Gift of the Artist
---
Copyright © 1996 Jas W Felter, all rights reserved.