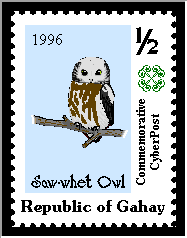 SAW-WHET OWL COMMEMORATIVE
by Gay Hapgood, 1996
Single cyberstamp: 220 x 165 x 256.

The Artistamp Gallery at JCM is pleased to be
the first to present one of Gay's many cyberstamps on the WWW.
This one is in memory of the little owl (only about 8" high) that died last fall from
a collision with one of Gay's windows in Massachusettes.
Permanent Collection
Gift of the Artist
---
Copyright © 2002 Jas W Felter, all rights reserved.