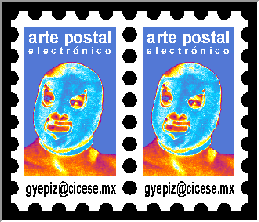 ARTE POSTAL ELECTRONICA
by Gerardo Yépiz, 1995
A pair of Cyberstamps from Mexico, 256 colours.

The first release of this work is currently on exhibition at
The Artistamp Gallery of the Electronic Museum of Mail Art (EMMA).

Gerardo Yépiz is a Visual Activist from Mexico. He now lives in San Diego, CA.
Permanent Collection
Gift of the Artist
---
Copyright © 1995 Jas W Felter, all rights reserved.