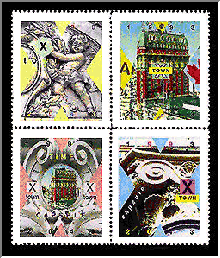 XTOWN
by Tom S Thomas, 1993
Block of four gummed & perforated artistamps: 4.4 x 3.9cm ea.
Issued in a full sheet (8.5 x 11") of 20 in 5 rows of 4.
Canon Laser print, signed, numbered 1/100 and dated.

This edition commemorates the founding of Xtown,
the Xtown Artropolis exhibtion and the Xtown Time Capsule.
Tom is a Vancouver-based poet and visual artist.
Permanent Collection
Acquisition Committee
---
Copyright © 1995 Jas W Felter, all rights reserved.