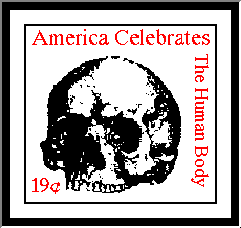 THE HUMAN BODY
by Metal Dog, 1995
Single red & black on white, imperforate artistamp, 2.9 x 3cm.
from the series "America Celebrates".

Metal Dog is an American graphic designer,
copywriter, metalsmith and all around good dog,
whose always interested in sharing words and images.

Permanent Collection
Gift of FIVE/CINQ Archives

---
Copyright © 2002 Jas W Felter, all rights reserved.