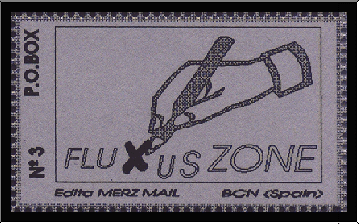 FLUXUS ZONE
by Pere Sousa, 1994

Black on grey photocopy print.
Ungummed, perforated.
Full sheet of 18 (29.1 x 17.4cm) with two variations, 5.8 x 3.5cm each.
Signed and numbered A/P.

Pere Sousa is the leading Mail Artist of Spain.
He lives and works in Barcelona where he edits
the Mail Art Zine Merz Mail.
Permanent Collection
FIVE/CINQ Archives
---
Copyright © 1997 Jas W Felter, all rights reserved.