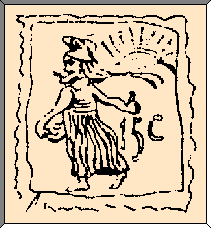 UNTITLED
by Erik Satie (1866-1925)
Artistamp sketch, size of original unknown.

Erik Satie drew and inscribed little cards all his life
and kept them in cigar boxes.
The location of the original sketch is unknown.

This is a scanned, cleaned and mounted rendition
of a photocopy of a reproduction found in The Banquet Years,
by Roger Shattuck; Vintage Books, New York, 1968 edition.
FIVE/CINQ Archives
Gift of Anna Banana
---
Copyright © 1997 Jas W Felter, all rights reserved.