Foyer
Index
Room I Cat.
Prior
Next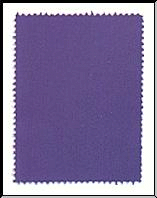 BLUE STAMP
by Yves Klein, 1959
(re-issue by StampArt Gallery, 1996
Single artistamp, 5.1 x 4cm.

Klein overpainted regular postage stamps with his unique 'Klein Blue' colour.
These were then attached to invitations to his
exhibition La vide (The Void), an empty gallery in Paris in 1959.
The painted stamps were then cancelled and delivered by the French Post Office,
causing a scandale française.

This is re-issued to commemorate
the Yves Klein/The Blue Stamp exhibition
at StampArt Gallery in San Francisco in January, 1996.
Permanent Collection
Gift of Picasso Gaglione
---
Copyright © 2002 Jas W Felter, all rights reserved.