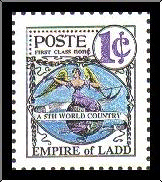 POSTE FIRST CLASS NONą
by J. Alyce, 1995
One of a set of five Empire of Ladd artistamps, 4 x 3.5cm.

J(ust) Alyce, aka The Empress of Ladd
is the creator of the World's Largest Postage Stamp, faux or otherwise.
She is also known as the High Preistess of Procrastination.
Permanent Collection
Gift of the Artist
---
Copyright © 1997 Jas W Felter, all rights reserved.