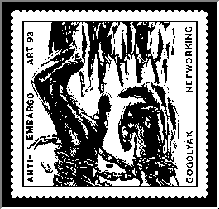 ANTI-EMBARGO ART 92, 1992
by Sándor Gogolyák
Single gummed & perforated black on white artistamp: 6.3 x 6.3cm.
Issued in a full sheet (10.25 x 8") of 12 different artistamps in 4 rows of 3.
Photocopy print on self-adhesive paper, unsigned.

This issue was a reaction to the cultural embargo in Yugoslavia
which resulted from the introduction of sanctions by the Security Council of the UN.

Sándor Gogolyák is the most active of the Yugoslav mail-artists.
Permanent Collection
Gift of FIVE/CINQ Archives
---
Copyright © 1995 Jas W Felter, all rights reserved.