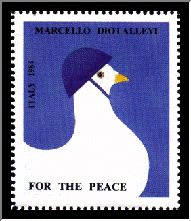 FOR THE PEACE (c.1984)
by Marcello Diotallevi
Single multi-coloured, perforated and gummed Artistamp: 5.1 x 4.3cm.
Issued in a full sheet (40 x 31.1cm) of 30 in 6 rows of 5.
Offset print, signed.

These days the Italian painter, sculptor, and graphic artist, Marcello Diotallevi, is mostly concerned with Mail Art, Visual Poetry and Copy Art. He lives and works in Fano.
Permanent Collection
Gift of the Artist
---
Copyright © 1995 Jas W Felter, all rights reserved.