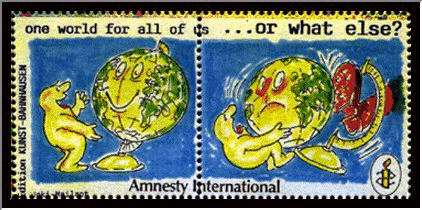 AMNESTY INTERNATONAL #3 & 4
by Josef Klaffki (1943 - 1997), 1990
One of two full-colour ungummed, perforated double-artistamps: 4.6 x 9.8cm. each.
Issued on Souvenir Sheet #E-No.255 (29.8 x 21cm.) in a block of four.
Canon colour laser print, signed and cancelled by the artist with a dedication to J.W. Felter

Josef Klaffki, aka Joki was one of Europe's top Artistamp Creators as well as
one of the most prolific.
He visited FIVE/CINQ Archives in 1993.
Permanent Collection
Gift of FIVE/CINQ Unlimited
---
Copyright © 1995 Jas W Felter, all rights reserved.