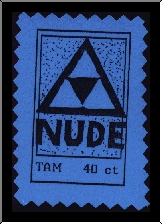 NUDE 40ct
by Ruud Janssen, c1994
Single black on blue, zig-zag perforated artistamp, 6.9 x 4.7cm.
TAM Issue

Ruud Janssen, aka TAM was born in Tilburg, Holland on July 29th 1959.
He is an artist, teacher, writer and publisher and became active with mail art in 1980.
Permanent Collection
Gift of the Artist
---
Copyright © 1997 Jas W Felter, all rights reserved.